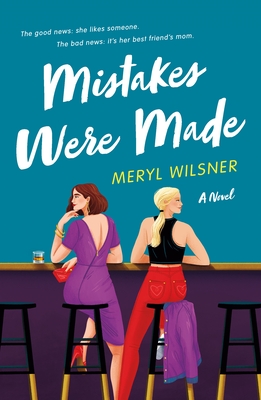 Mistakes Were Made
A Novel
Paperback

* Individual store prices may vary.
Description
From the critically acclaimed author of Something to Talk About comes Meryl Wilsner's Mistakes Were Made, a sharp and sexy rom-com about a college senior who accidentally hooks up with her best friend's mom.

When Cassie Klein goes to an off-campus bar to escape her school's Family Weekend, she isn't looking for a hookup—it just happens. Buying a drink for a stranger turns into what should be an uncomplicated, amazing one-night stand. But then the next morning rolls around and her friend drags her along to meet her mom—the hot, older woman Cassie slept with.

Erin Bennett came to Family Weekend to get closer to her daughter, not have a one-night stand with a college senior. In her defense, she hadn't known Cassie was a student when they'd met. To make things worse, Erin's daughter brings Cassie to breakfast the next morning. And despite Erin's better judgement—how could sleeping with your daughter's friend be anything but bad?—she and Cassie get along in the day just as well as they did last night.

What should have been a one-time fling quickly proves impossible to ignore, and soon Cassie and Erin are sneaking around. Worst of all, they start to realize they have something real. But is being honest about the love between them worth the cost?
Praise For Mistakes Were Made: A Novel…
"Wilsner proves their serious romance range with a sophomore that laughs in the slow-burning face of their debut by kicking off with a hookup that'll have you fanning your face for days." - Buzzfeed, "26 Highly Anticipated LGBTQ+ Romance Novels Releasing In 2022"

"Wilsner's steamy, fast-paced secret-lovers contemporary romance features fully realized queer protagonists and secondary characters...It's not a romantic comedy, but definitely has humor, as well as great dialogue and hot sex scenes." - Library Journal

"A sexy and empowering romance." - Kirkus Reviews

"[A] hilarious, high-heat rom-com...by coupling raunchy humor and genuine connection,
Wilsner's sophomore outing offers plenty to love." - Publishers Weekly

"Mistakes Were Made is so sexy and compelling, reading it is like being in on the most tantalizing secret. From the moment I picked it up, I couldn't stop reading, smiling, or blushing. Simply delectable from start to finish." - Dahlia Adler, author of Cool for the Summer

"A frothy blend of heart, humor, and steam, this story about accepting love and embracing the unexpected will stay with readers far beyond its happily ever after. A vibrant, intoxicating romance." - Ashley Herring Blake, author of Delilah Green Doesn't Care

"Mistakes Were Made is an absolute delight, both undeniably sexy and incredibly sweet. The story overflows with warmth, friendship, and humor, and Wilsner skillfully ensures that even when Cassie and Erin make their mistakes—big ones—those mistakes are human and understandable. I was rooting for their happy ending the whole time, and when it arrived, I cried happy tears. I think readers will adore this story, and for good reason." - Olivia Dade, author of Spoiler Alert

"In Mistakes Were Made, Wilsner somehow deftly depicts both the messy, exuberant confusion of college life and the messy, bewildering confusion of middle age. Cassie and Erin's journey is taboo and sexy, but ultimately, it is deeply sweet: a story of how love can, and should, transcend societal expectations." - Anita Kelly, author of Love & Other Disasters

"Meryl Wilsner's sophomore novel bursts with charm, humor, and heat. Mistakes Were Made left me smiling from beginning to end and you'll fall in love while rooting for this sexy, forbidden, and adorable love story. Wilsner is a storyteller who gently and perfectly steals your heart and hands it back a little fuller. I can't wait to recommend this book to everyone I know!" - Denise Williams, author of The Fastest Way to Fall
St. Martin's Griffin, 9781250841001, 352pp.
Publication Date: October 11, 2022
About the Author
MERYL WILSNER writes happily ever afters for queer folks who love women. They are the author of Something to Talk About and Mistakes Were Made. Born in Michigan, Meryl lived in Portland, Oregon and Jackson, Mississippi before returning to the Mitten State. Some of Meryl's favorite things include: all four seasons, button down shirts, the way giraffes run, and their wife.