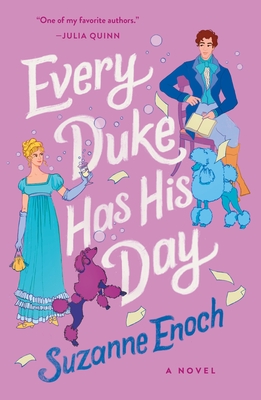 Every Duke Has His Day
Paperback

* Individual store prices may vary.
Description
Brain meets Beauty in this sparkling, fresh take on the classic Bringing Up Baby – if Jane Austen had written it! A romantic comedy with a dash of chaos featuring the most ill-behaved poodle in Regency London, by New York Times bestseller Suzanne Enoch.

Michael Bromley, Duke of Woriton, has a passion, but it's not for chasing ladies or gambling till dawn. No, his is the far more dangerous pursuit of the science of chemistry. He may be a tad eccentric, but he can navigate a society ballroom, and manage a polite conversation—if he must. He's certainly capable of taking care of his aunt's perfectly behaved poodle, Lancelot, while she's on holiday.

Elizabeth "Bitsy" Dockering, third daughter of a viscount, is enjoying her second, spectacular Season in London. She is a Diamond of the Season and is adored by all—and especially by her precious black poodle, Galahad. To everyone else, however, Galahad is a demon dog. So much so that Bitsy's most insistent beau and particular victim of Galahad's bad manners, has hired a thief to steal the dog, clearing the way for his suit.

But none of them can plan for a chaotic encounter in the park, resulting in lost notes, a soaking in the Serpentine and an accidental dog swap…and Lancelot being kidnapped instead of Galahad! Determined to locate the dog, Michael isn't thrilled to be saddled with a flighty female insisting on helping—except that Bitsy has a great deal more sense than he expected. And a sharp tongue to match. Still, what's a scientist to do but continue to pursue an outcome, however unexpected it may be? But chemistry is all about attraction, and this is one formula with some hilariously romantic results.
Praise For Every Duke Has His Day…
"Sure to win hearts." - Publishers Weekly on Something In the Heir

"Will appeal to readers who are looking for a [...] romance." - School Library Journal on Something In the Heir

"With this captivating mixture of romance and suspense, Enoch sends the series out on a high note." – Publishers Weekly on Hit Me with Your Best Scot

"High stakes, spirited characters, and off-the-charts chemistry keep the pages turning as Enoch balances humor, heat, and tension. This is Highland romance done right." - Publishers Weekly starred review on Scot Under the Covers

"Enoch delivers another fresh and fun Highlander/English romance with notes of scandal, secrets, cunning escapades and off-the-charts chemistry." - Booklist starred review on Scot Under the Covers

"[An] enticing, enchanting ride." - The New York Times on Scot Under the Covers
St. Martin's Griffin, 9781250842541, 320pp.
Publication Date: September 19, 2023
About the Author
A native and current resident of Southern California, Suzanne Enoch loves movies almost as much as she loves books, with a special place in her heart for anything Star Wars. She has written more than forty Regency novels and historical romances, which are regularly found on the New York Times bestseller list. Some of these include the Scandalous Brides, No Ordinary Hero, Lessons in Love and Wild Wicked Highlanders series. When she is not busily working on her next book, Suzanne likes to contemplate interesting phenomena, like how the three guppies in her aquarium became 161 guppies in five months.