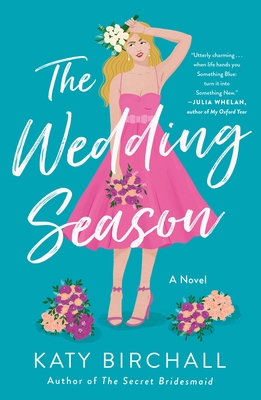 The Wedding Season
A Novel
Paperback

* Individual store prices may vary.
Description
"Birchall manages to design a cheer squad of fully supportive chums and a sexy, sensitive love interest in this witty, relatable tale that doesn't fall prey to the trite rom-com formula you may be expecting." ––USA Today

FOUR WEDDINGS AND A FUNERAL meets THE WEDDING PARTY...

Freya Scott is getting married. Her wedding to Matthew, her long-term boyfriend, is the first of eight in her calendar this year, and as someone who prides herself on being meticulously organized, Freya is intent on making it the perfect day to remember.

But when Matthew calls things off hours before they walk down the aisle, Freya's entire life plan goes up in smoke. Humiliated and heartbroken, the last thing she wants is to attend a summer of other peoples' nuptials on her own.

Fortunately, her friends have an idea: together they devise a series of outrageous challenges for Freya to complete at each event, designed to distract her from Matthew and what might have been. From getting stuck in an old church bathroom and needing to be rescued by the vicar to making out with a barman at a French chateau, Freya realizes that despite herself, she might just be having fun.

By the time the final wedding arrives, she will discover that the road to a happy ending sometimes has unexpected detours, that "I do" is only the beginning––and that perhaps her own love story isn't over just yet.
Praise For The Wedding Season: A Novel…
"Birchall manages to design a cheer squad of fully supportive chums and a sexy, sensitive love interest in this witty, relatable tale that doesn't fall prey to the trite rom-com formula you may be expecting." ––USA Today

"Witty...Birchall strikes gold with the comedic cadence of her prose and balances the humor with her winning heroine's sincere efforts to find her inner strength. This is a snappy, empowering pick for fans of Sophie Kinsella." ––Publishers Weekly

"An instant classic of a rom-com, THE WEDDING SEASON is perfect feel-good escapism." ––Laura Jane Williams, internationally bestselling author of Our Stop

"A delicious, confetti filled adventure sure to lift your heart." ––Fiona Gibson, author of The Dog Share

"A fast-paced, well-written story...the real HEA ending is Freya's realization that being jilted was a beginning, not an end." ––Library Journal

"The Wedding Season is the perfect antidote to recent stressful times; like a glass of Prosecco, it's bubbly, fun and over way too fast. And a warning: Do not read The Wedding Season in bed late at night whilst your partner sleeps! Your constant snorts and giggles will wake them repeatedly. Don't say I didn't warn you." ––Lindsay Emory, author of The Royal Runaway

"Fun, hilarious and heartwarming, The Wedding Season is like a giant hug for anyone who has faced the challenge of a failed relationship. With a stellar cast of loyal friends, quirky family members, and a wacky plan to get through the wedding season, this book had me laughing, crying happy tears and turning pages late into the night." ––Sara Desai, author of The Singles Table

"An utterly charming story about what to do when life hands you Something Blue: turn it into Something New. THE WEDDING SEASON is exactly what I needed to read right now." ––Julia Whelan, author of My Oxford Year

"I adored THE WEDDING SEASON! Its wit made me laugh, its relatability made me cry, and its delicious slow-burn romance had me swooning. The perfect wedding season read. I can't wait to read what Birchall writes next." ––Lacie Waldon, author of The Layover


Praise for The Secret Bridesmaid:

"A pure delight." ––BookPage, starred review

"A unique, hilarious spin on wedding mayhem. Birchall pays just as much attention to the complex nuances of female friendship as to the healing power of love, resulting in an entertaining romp." ––Publishers Weekly

"Charming, escapist fun." ––Katharine McGee, New York Times bestselling author of American Royals

"This laugh-out-loud funny rom-com provides the cheery escapism we all need these days. Charming, hopeful, and swoon-worthy enough to sweep even the most level-headed reader off their feet." ––Hannah Orenstein, author of Head Over Heels
St. Martin's Griffin, 9781250845962, 384pp.
Publication Date: May 3, 2022
About the Author
Katy Birchall is the author of The Wedding Season and The Secret Bridesmaid, as well as numerous books for young readers. A former editor for Country Life magazine, she studied English literature and linguistics at the University of Manchester and currently lives in London.