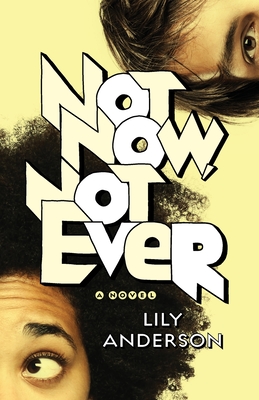 Not Now, Not Ever
A Novel
Paperback

* Individual store prices may vary.
Other Editions of This Title:
Hardcover (11/21/2017)
Description
AN INDIE NEXT PICK!

Jennifer E. Smith meets The Fangirl's Guide to the Galaxy in Lily Anderson's Not Now, Not Ever, a deliciously nerdy companion to The Only Thing Worse than Me Is You

ONE OF Paste's BEST YOUNG ADULT BOOKS IN NOVEMEBER 2017

"A wonderful book." —School Library Journal

Elliot Gabaroche is very clear on what she isn't going to do this summer.

1. She isn't going to stay home in Sacramento, where she'd have to sit through her stepmother's sixth community theater production of The Importance of Being Earnest.
2. She isn't going to mock trial camp at UCLA.
3. And she certainly isn't going to the Air Force summer program on her mom's base in Colorado Springs. As cool as it would be to live-action-role-play Ender's Game, Ellie's seen three generations of her family go through USAF boot camp up close, and she knows that it's much less Luke/Yoda/"feel the force," and much more one hundred push-ups on three days of no sleep. And that just isn't appealing, no matter how many Xenomorphs from Alien she'd be able to defeat afterwards.

What she is going to do is pack up her determination, her favorite Octavia Butler novels, and her Jordans, and run away to summer camp. Specifically, a cutthroat academic-decathlon-like competition for a full scholarship to Rayevich College—the only college with a Science Fiction Literature program, and her dream school. She's also going to start over as Ever Lawrence: a new name for her new beginning. She's even excited spend her summer with the other nerds and weirdos in the completion, like her socially-awkward roommate with neon-yellow hair, and a boy who seriously writes on a typewriter and is way cuter than is comfortable or acceptable.

The only problem with her excellent plan to secretly win the scholarship and a ticket to her future: her golden-child, super-genius cousin Isaiah has had the same idea, and has shown up at Rayevich smugly ready to steal her dreams and expose her fraud in the process.

This summer's going to be great.
Praise For Not Now, Not Ever: A Novel…
Praise for Not Now, Not Ever:

"Why You'll Love It: Anderson's debut novel, The Only Things Worse Than Me Is You, was one of Paste's best YA novels of 2016. It draws inspiration from Much Ado About Nothing, and now Anderson's new book takes a page from The Importance of Being Earnest. Because Anderson knows book lovers adore classic retellings." —Paste, "10 of the Best New Young Adult Books in November 2017"

"Witty, romantic, and exuberantly geeky, Lily Anderson's clever teen tribute to The Importance of Being Earnest is delightful. Readers will be wooed by sci-fi fangirl Elliot's compelling struggle to remake her identity while discovering how to be true to herself. Brimming with a cast of standout characters and spot-on family dynamics, this is a flat-out joy of a book. Oscar Wilde would applaud—I certainly did! Bravo!" —Jenn Bennett, author of The Anatomical Shape of a Heart and Alex, Approximately

"Not Now, Not Ever is a smart, sexy, nerdy love story that would have delighted Oscar Wilde. Once again, Lily Anderson has reinvented a beloved classic with contemporary friends, fears, and fandoms, nailing humor with intelligence and heart." —Cori McCarthy, author of You Were Here and Breaking Sky

"Extremely entertaining…Elliot [is] one of the most charismatic heroine sin recent memory." —RT Reviews (4 stars)

"This is a wonderful book that explores the desire to be loyal to family and to create a space that belongs solely to oneself. Ever's is a fresh and welcome voice that unashamedly embraces her geekiness." —School Library Journal

"Smart, strong, and confident, Ever is a likable protagonist...and fans of The Only Thing Worse Than Me Is You will joyfully greet the return of major characters. Good geeky fun." —Kirkus

"Fans of Anderson's debut novel, The Only Thing Worse than Me Is You, will recognize some characters and delight in the steady flow of witty banter and sci-fi references." —Booklist

Praise for The Only Thing Worse than Me Is You:

"A geeky Shakespearean retelling that tosses Much Ado About Nothing into a comic book store. The result is a hilarious contemporary romance that pays tribute to everything in the geek canon, from Firefly to Doctor Who." —Paste, "The 16 Best Young Adult Books of 2016 (So Far)"

"There's a lot to enjoy in debut novelist Anderson's geek-positive update of Much Ado About Nothing, including...an epic love-hate relationship. Readers familiar with the Shakespeare will enjoy Anderson's riffs on the original's plot points as Trixie and Ben get their nerdily-ever-after ending." —Publishers Weekly

"This book is the geeky best friend you've always wanted. A hilarious, heartfelt book that treats pop culture and Shakespeare with the same reverence and adoration, The Only Thing Worse than Me Is You a perfect geeky read that I wish I'd had in high school." —Eric Smith, blogger and author of The Geek's Guide to Dating

"Full of modern-day fandoms, such as Doctor Who, Buffy the Vampire Slayer, Star Wars and Marvel comics... [and with] lovable, relatable,and realistic characters...that fans of Rainbow Rowell's Eleanor & Park or Fangirl will enjoy." —School Library Journal

"The adaptation is spot on, the witty banter is quoteworthy...brain candy for the brainy crowd." —The Bulletin for the Center for Children's Books
Wednesday Books, 9781250851130, 320pp.
Publication Date: November 21, 2017
About the Author
Lily Anderson is the author of several novels for young adults including The Only Thing Worse Than Me Is You, Not Now Not Ever, and Undead Girl Gang. A former school librarian, she is deeply devoted to Shakespeare, fairy tales, and podcasts. Somewhere in Northern California, she is having strong opinions on musical theater.