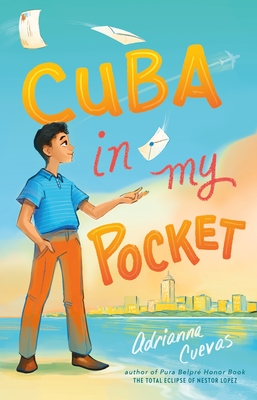 Cuba in My Pocket
Paperback

* Individual store prices may vary.
Other Editions of This Title:
Digital Audiobook (9/20/2021)
Hardcover (9/21/2021)
MP3 CD (9/21/2021)
Compact Disc (9/21/2021)
Description
By Adrianna Cuevas, author of 2021 Pura Belpré Honor Book The Total Eclipse of Nestor Lopez, comes a sweeping, emotional middle grade historical novel about a twelve-year-old boy who leaves his family in Cuba to immigrate to the U.S. by himself, based on the author's own family history.

"I don't remember. Tell me everything, Pepito. Tell me about Cuba."

When the failed Bay of Pigs invasion in 1961 solidifies Castro's power in Cuba, twelve-year-old Cumba's family makes the difficult decision to send him to Florida alone. Faced with the prospect of living in another country by himself, Cumba tries to remember the sound of his father's clarinet, the smell of his mother's lavender perfume.

Life in the United States presents a whole new set of challenges. Lost in a sea of English speakers, Cumba has to navigate a new city, a new school, and new freedom all on his own. With each day, Cumba feels more confident in his new surroundings, but he continues to wonder: Will his family ever be whole again? Or will they remain just out of reach, ninety miles across the sea?
Praise For Cuba in My Pocket…
"Cuba in My Pocket is an authentic and moving portrayal of a tragic era in Cuban history, told with empathy and hope." — Margarita Engle, Newbery Honor-winning author and Young People's Poet Laureate Emeritus

"Adrianna Cuevas has written a book that is a beautiful gift to the memory of her father, filled with love and a great respect for the culture and folklore of Cuba. The travails of Cumba Fernandez, a young Cuban wrenched into exile, will make all readers want to root for him, as he finds courage he didn't know he had, dares to be hopeful when his heart is broken, and learns to always carry Cuba in his pocket."
— Ruth Behar, author of Pura Belpré Award-Winning book, Lucky Broken Girl, and Sydney Taylor Notable book, Letters from Cuba

"A harrowing and important read. Cuevas explores an often-hidden moment in Cuban American history with heart, compassion, and authenticity." — Ernesto Cisneros, author of Pura Belpré Award-Winning book Efrén Divided

"Cuba in My Pocket is beautifully told and vividly realized. Cuevas thoughtfully explores the agonizing loss of home and family and what it means to try and hold onto both from across the sea. Cumba's journey is specific, deeply personal, and a love letter to the freedom to dream. Heartbreaking but stubbornly hopeful, I will carry this story with me forever." — Nina Moreno, author of Don't Date Rosa Santos

"From the riveting glimpse into 1960s Cuba, to narrator Cumba—beautifully drawn in all his bravery, wit, and spirit—this story is a triumph." — Laura Taylor Namey, New York Times bestselling author of A Cuban Girl's Guide to Tea and Tomorrow

"Cuba in My Pocket is an expertly written, emotional roller coaster you don't want to miss." — Saadia Faruqi, author of Yusuf Azeem Is Not A Hero

"Inspired by stories from her father's childhood, Cuevas' latest is a triumph of the heart...A compassionate, emotionally astute portrait of a young Cuban in exile."
— Kirkus, STARRED REVIEW

"Cuevas' intense and immersive account of a Cuban boy's experience after the failed Bay of Pigs Invasion brings a specific point in history alive ... Drawing from her father's boyhood experiences, Cuevas does an outstanding job of eliciting the confusing array of emotions Cumba feels as he is thrown into life in a new country." — Booklist, STARRED REVIEW

"Cuevas packs this sophomore novel with palpable emotions and themes of friendship, love, longing, and trauma, attentively conveying tumultuous historical events from the lens of one young refugee." — Publishers Weekly, STARRED REVIEW

PRAISE FOR THE TOTAL ECLIPSE OF NESTOR LOPEZ:

2021 Pura Belpré Honor Book
NYPL Best Book of 2020
A 2020 Evanston Public Library Great Books for Kids

"A marvelous, magical mystery that deftly blends family, friends and folklore." — David Bowles, author of Pura Belpré Honor Book and Walter Dean Myers Honor Book They Call Me Güero

"Mystery, adventure, humor, friendship, and...talking animals--The Total Eclipse of Nestor Lopez has it all! Readers will love this funny, fast-paced, heartwarming story." — Celia C. Pérez, author of the Pura Belpre Honor book The First Rule of Punk

"A charming and vibrant debut fantasy." — Kirkus Reviews

"Readers will devour this fast-paced adventure as they root for Nestor and his ragtag bunch of friends and animal allies . . . In a unique take on South and Central American folklore, Cuevas brings to life an earthly type of twisted magic that transcends spells and transfiguration, extending into the feelings of belonging and finding a true home." — Booklist

"With this heartwarming debut, Cuevas draws upon Central American legends and her Cuban heritage to flesh out Nestor's experiences . . . crafting a tense, satisfying tale of magic, family, and finding one's true home." — Publisher's Weekly

"Cuevas crafts a riveting story based on folktales from Panama and Costa Rica." — School Library Journal

Square Fish, 9781250853165, 320pp.
Publication Date: September 20, 2022
About the Author
Adrianna Cuevas is the author of The Total Eclipse of Nestor Lopez (FSG BYR, 2020) and Cuba in My Pocket (FSG BYR, 2021). She is a first-generation Cuban-American originally from Miami, Florida. After teaching Spanish and ESOL for sixteen years, she decided to pursue her passion for storytelling. Adrianna currently resides outside of Austin, TX with her husband and son where they enjoy hiking, traveling, and cooking lots of Cuban food.