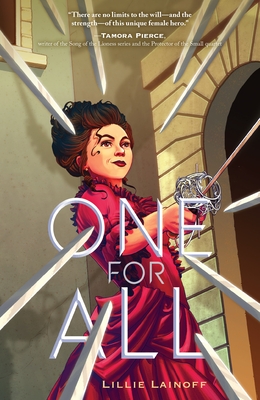 One for All
A Novel
Paperback

* Individual store prices may vary.
Other Editions of This Title:
Digital Audiobook (3/7/2022)
Hardcover (3/8/2022)
MP3 CD (3/8/2022)
Description
"There are no limits to the will—and the strength—of this unique female hero." —Tamora Pierce, writer of the Song of the Lioness and the Protector of the Small quartets

One for All is a gender-bent retelling of The Three Musketeers, in which a girl with a chronic illness trains as a Musketeer and uncovers secrets, sisterhood, and self-love.

Tania de Batz is most herself with a sword in her hand. Everyone thinks her near-constant dizziness makes her weak, nothing but "a sick girl." But Tania wants to be strong, independent, a fencer like her father—a former Musketeer and her greatest champion. Then Papa is brutally, mysteriously murdered. His dying wish? For Tania to attend finishing school. But L'Académie des Mariées, Tania realizes, is no finishing school. It's a secret training ground for new Musketeers: women who are socialites on the surface, but strap daggers under their skirts, seduce men into giving up dangerous secrets, and protect France from downfall. And they don't shy away from a sword fight.

With her newfound sisters at her side, Tania feels that she has a purpose, that she belongs. But then she meets Étienne, her target in uncovering a potential assassination plot. He's kind, charming—and might have information about what really happened to her father. Torn between duty and dizzying emotion, Tania will have to decide where her loyalties lie…or risk losing everything she's ever wanted.

Lillie Lainoff's debut novel is a fierce, whirlwind adventure about the depth of found family, the strength that goes beyond the body, and the determination it takes to fight for what you love. Includes an author's note about her personal experience with Postural Orthostatic Tachycardia Syndrome.
Praise For One for All: A Novel…
"Among the book's many strengths is its character development, fleshing out each individual with their own charms, quirks, and flaws . . . Lainoff's debut is a rare treat, telling an honest story about a disabled protagonist in a historical setting without infantilizing the character or glossing over her experience . . . An unforgettable mystery and dashing story woven from threads of chosen family and sisterhood along with bravery, loyalty, and heart." —Booklist, starred review

"Amid suspenseful spying and code-breaking, Lainoff deftly explores chronic illness and internalized ableism; others' ignorant comments and Tania's struggles with pervasive self-doubt are painfully realistic. The Musketeers' unwavering support is heartwarming . . . An insightful, affirming tale of swordplay and sisterhood." —Kirkus Reviews

"A dashing tale full of heart, courage, and friendship, with an unforgettable disabled heroine. One for All is revolutionary in more ways than one." —Marieke Nijkamp, #1 New York Times–bestselling author of This is Where it Ends

"There are no limits to the will—and the strength—of this unique female hero." —Tamora Pierce, writer of the Song of the Lioness and the Protector of the Small quartets

"A thrilling mystery from start to finish. Lainoff masterfully created a feminist retelling of the Three Musketeers with a strong, determined heroine. Chronically ill readers will delight in seeing themselves starring in their own adventure. Lainoff is a fierce new talent to watch out for." —Kerri Maniscalco, #1 New York Times–bestselling author of Kingdom of the Wicked

"One For All is a reimagining that is both poignant and fiery—and like no other Musketeer story you have ever read. Just like the blade her teen protagonist Tania wields, Lainoff's prose is effortlessly precise, fluid, and sharp . . . a breathtaking adventure story set in the past that also speaks to our present and future--the best type of historical fiction. Tania's story is for anyone who has wondered how to carve a path through a world that does not accommodate your whole self." —Tracy Deonn, New York Times–bestselling author of Legendborn

"A rousing tale of lady spies, swordplay, with a dash of romance. Tania is a formidable heroine, driven to carve out a place for herself among the musketeers. Lillie Lainoff has crafted a story as thrilling and compelling as any fencing match." —Emily Lloyd-Jones, author of The Bone Houses

"The fierce, disabled heroine of One for All discovers her strengths and defies expectations in this swashbuckling tale of girls who have each other's backs. A delightful, empowering adventure!" —Joy McCullough, National Book Award-nominated author of Blood Water Paint

"A captivating, stereotype-shattering, OwnVoices fantasy about defying the odds and finding your place in the world. A heartfelt, gender-bending read featuring a disabled heroine whose differences give her the strength and courage to fight for her dreams." — Kami Garcia, #1 New York Times bestselling coauthor of Beautiful Creatures

"A story brimming with strength. One for All will whirl you away to a 17th century France of pulse-pounding duels in beautiful ball gowns, following a sisterhood knitted together by duty and an indomitable heroine to cheer for." --Chloe Gong, New York Times-bestselling author of These Violent Delights

"Fierce, breathtaking, and absolutely unputdownable. One for All is an adventure-packed historical retelling that you won't want to miss!" —June Hur, author of The Forest of Stolen Girls

"A thrilling, big-hearted novel that is sure to become a classic in the canon of YA historical fiction, One for All is everything readers could want in a feminist adventure . . . A stunning debut that hits all the right notes." —Carly Heath, author of The Reckless Kind

"Lainoff's female Musketeers beguile and swashbuckle their way into the ornate citadel of power that was Louis XIV's court with wit, tenacity, and stirring sisterhood. You will cheer for them to carry the day in this sweeping story about becoming your best self in the midst of a society trying to relegate you to a specific category." —Jennieke Cohen, author of Dangerous Alliance and My Fine Fellow
Square Fish, 9781250866585, 400pp.
Publication Date: March 7, 2023
About the Author
Lillie Lainoff received her BA in English from Yale University, where she was a varsity fencer and one of the first physically disabled athletes to individually qualify for any NCAA championship event, and her MA in Creative Writing Prose Fiction at the University of East Anglia. She has also won the 2019 Los Angeles Review Literary Award for Short Fiction, was a featured Rooted in Rights disability activist, and is the founder of Disabled Kidlit Writers on Facebook. She lives in Washington, DC.