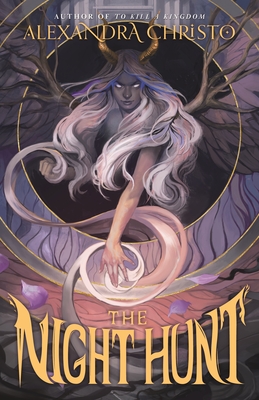 The Night Hunt
Hardcover

* Individual store prices may vary.
Description
From the author of To Kill a Kingdom comes The Night Hunt, a dark fantasy romance about a monstrous girl who feeds on fear and the Gods-cursed boy who falls in love with her.

Atia is an immortal trickster who feeds on fear. As the last of her kind, she thinks herself safe from the wrath of the unpredictable Gods. Silas is a Herald, carrying messages and ferrying the dead as Gods-given punishment for a past he can't remember. Stripped of his true name, he painfully serves his hundred-year sentence, yearning to recover his true identity.

When the Gods strip Atia of her powers, Silas realizes that she may be the solution to his own immortal punishment. He offers her a deal: he'll help her avenge her family and take on the Gods who now hunt her if she helps him break his curse and restore his humanity. All they need to do is kill three powerful creatures: a vampire, a banshee, and one of the very Gods who destroyed both their lives. Only by uniting their strengths and trusting in each other can they finally rewrite their destinies.
Praise For The Night Hunt…
For To Kill a Kingdom:

"With well-crafted fight scenes and vivid descriptions, Christo has created a world of beauty and monstrosity that will draw readers in." —Publishers Weekly

"Stellar world building and nonstop action will keep readers hooked on this twisted reimagining of "The Little Mermaid." —Booklist Online

"Fantasy fans will like the idea of sirens and piratelike princes as the characters who are imaginative and well developed." —School Library Journal

"Readers who enjoy dark fairy tales of The Little Mermaid persuasion will sink into this bloody tale with pleasure." —RT Book Reviews

"The world building is deft, and the spectacular ending is a happy one for Lira and Elian, but it will leave readers blissfully wanting more." —The Bulletin of the Center for Children's Books

For Into the Crooked Place:

"With its gangland details, creative magical caste system and surprisingly brutal characters, Into the Crooked Place is very much its own thing. And that thing will likely be a story you can't put down." —Culturess

"Christo offers the reader creative and thoughtful backstories for each protagonist, along with fully realized worlds rife with magic . . . Everywhere are people of color and acknowledgment of LGBTQ characters—nice touches not always seen in fantasy." —Booklist

"Christo has done an amazing amount of worldbuilding with this book . . . The way her characters use magic, the mythology of each of her characters within their backstories, and the timing with which these backstories are revealed—pure magic, pun intended!" —MuggleNet

"It's a gangster heist story dealing with a lot of heavy themes, but I think everyone will find something to love in this story . . . . It's a wonderful read with awesome characters." —The Nerd Daily

For Princess of Souls

"High stakes and dangerous escapades. Princess of Souls takes you on a thrilling journey alongside a witch trying to walk her own path and the clever soldier laying the way. This is Rapunzel glistening with dark magic galore." -- Chloe Gong, the New York Times bestselling author of These Violent Delights

"Christo has cast a spell with this decadently dark tale of witches, fate, and defying death; her hallmark humor is as sharp as a blade; equally, her expert handling of a romance sure to be devoured by readers sparks true magic" —Ciannon Smart, author of Witches Steeped in Gold

"Princess of Souls sucked me in from the very first sentence. Its premise is as delightful as it is creepy, with characters to match. Nox and Selestra are here for vengeance, and everybody else had better stay out of their way." -- Tricia Levenseller, author of The Shadows Between Us
Feiwel & Friends, 9781250897442, 368pp.
Publication Date: October 10, 2023
About the Author
Alexandra Christo is a British author whose characters are always funnier and far more deadly than she is. She studied Creative Writing at university and graduated with the desire to never stop letting her imagination run wild. She currently lives in Hertfordshire with a rapidly growing garden and a never-ending stack of books. Her debut novel To Kill a Kingdom is an international bestseller and her Young Adult fantasy books have been translated into over a dozen languages worldwide.