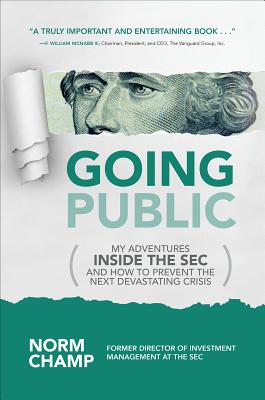 Going Public (Hardcover)
My Adventures Inside the SEC and How to Prevent the Next Devastating Crisis
McGraw-Hill Education, 9781259861208, 256pp.
Publication Date: March 15, 2017
Other Editions of This Title:
MP3 CD (8/8/2017)
Compact Disc (8/8/2017)
* Individual store prices may vary.
Description
An insider's look at the SEC and the changes needed to strengthen the U.S. financial system
In 2008, Americans were reeling from the devastating financial crisis that caused the Great Recession. There were searing questions about how the crisis was allowed to happen and calls for immediate reform from Capital Hill, the news media, and the general public. Multiple scandals sent real fear through the investing community and brought unprecedented heat on the Securities and Exchange Commission (SEC). There was little doubt that the SEC had to fix rules that permitted bad behavior, shake off decades of complacency and enforce existing laws.
Wall Street lawyer Norm Champ spent nearly 20 years dealing with the SEC on behalf of his clients and as an industry representative working to educate the agency about hedge funds. Believing he could help reform the deeply-flawed agency, Champ left his career in the private sector and joined the SEC. As Director of the Division of Investment Management, he became a key player in stabilizing trillions of dollars of investor capital while reenergizing the SEC's culture and management.
In Going Public, Champ presents a rare, insider's look at how the SEC operates and explains exactly how the agency impacts the overall economic health of the country. He examines the inner workings of hedge funds, economic policy and politics, investing, and inefficient and frustrating federal agencies. Engrossing and important, this book offers critical recommendations for policy changes that will create healthy, free-functioning markets and help Americans better prepare for the inevitable next crisis.

About the Author
Norm Champ is a partner in the Investment Funds Group of law firm Kirkland & Ellis LLP and teaches investment management law at Harvard Law School. Previously, he was the director of the Division of Investment Management at the U.S. Securities and Exchange Commission (SEC). Under his leadership, the SEC adopted landmark reforms to strengthen the money market mutual fund industry. Champ was also instrumental in creating and implementing initiatives to reorganize the SEC and provide transparency to the industry. He lives in New York City with his wife and four children.
or
Not Currently Available for Direct Purchase