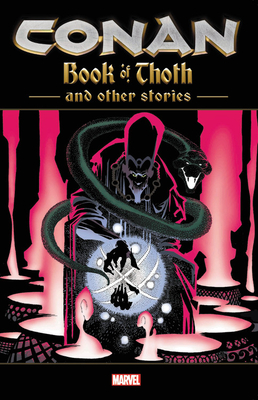 Conan
The Book of Thoth and Other Stories
Paperback

* Individual store prices may vary.
Description
The horrifying origin of Conan the Barbarian's greatest adversary - the dreaded sorcerer Thoth-Amon! In the dank alleys of a decaying city, one beggar boy conjures visions of a future where the rich cower in fear of his terrible power! Witness Thoth-Amon's rise from the squalor of the streets through the priestly ranks of Ibis to the heights of evil! Plus, a look back into the past of the Barbarian! As warlord Khalar Zym sets out on a quest to find the mythical Mask of Acheron - an ancient artifact that will bring his beloved back to life - he thinks nothing of destroying a village in northern Cimmeria. But one boy born of battle survives Zym's attack - and years later, their paths are destined to cross once more! COLLECTING: CONAN: BOOK OF THOTH (2006) 1-4, CONAN THE BARBARIAN: THE MASK OF ACHERON (2011) 1
Marvel, 9781302922825, 232pp.
Publication Date: April 14, 2020
or
Not Currently Available for Direct Purchase