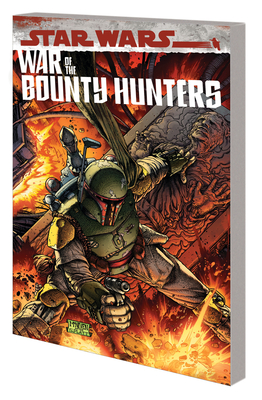 Star Wars
War of the Bounty Hunters
Paperback

* Individual store prices may vary.
Description
The Star Wars comic event you've been waiting for! The notorious bounty hunter Boba Fett has finally landed his greatest prize — Han Solo, frozen in carbonite for easy transport. Fett will bring the smuggler to Tatooine to collect the massive bounty placed on Solo's head by the fearsome crime lord Jabba the Hutt. Sounds easy. What could go wrong? There's just one problem standing between Fett and the payday…and it's a big one. But Fett will stop at nothing to get the job done! Prepare for a mind-blowing, space-shattering epic event like no other!

COLLECTING: Star Wars: War of the Bounty Hunters Alpha (2021) 1, Star Wars: War of the Bounty Hunters (2021) 1-5
Marvel, 9781302928803, 160pp.
Publication Date: November 23, 2021