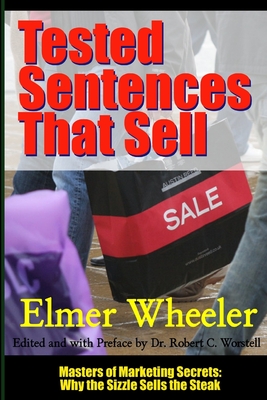 Tested Sentences That Sell - Masters of Marketing Secrets
Why the Sizzle Sells the Steak
Paperback

* Individual store prices may vary.
Description
To understand advertising, you need to understand salesmanship. Both are filled with mis-steps, gimmicks, and frauds. Advertising is widely understood to be "Salesmanship in Print." Understanding what makes a successful salesman then gives you the basics of what will make successful ads. With this tested collection of solutions, any person is well on their way to understanding human nature and how to approach prospects in order that marketing becomes routinely effective. During 10 years of research, Wheeler tested over 105,000 words and phrases on more than 19 million people, resulting in the development of his "5 Wheeler Points" and, in 1937, the publication of "Tested Sentences That Sell". Wheeler's principles as powerful today as they were when this book was originally published in 1937. Even as things change, technology transforms, business evolves - human nature has stayed the same. Get your copy today and Master these secrets for yourself.
Lulu.com, 9781312100350, 230pp.
Publication Date: May 31, 2014