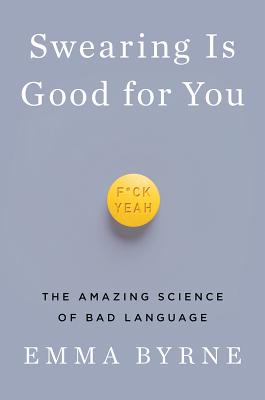 Swearing Is Good for You (Hardcover)
The Amazing Science of Bad Language
W. W. Norton & Company, 9781324000280, 240pp.
Publication Date: January 23, 2018
Other Editions of This Title:
Paperback (2/26/2019)
Compact Disc (1/23/2018)
* Individual store prices may vary.
Description
An irreverent and impeccably researched defense of our dirtiest words.
We're often told that swearing is outrageous or even offensive, that it's a sign of a stunted vocabulary or a limited intellect. Dictionaries have traditionally omitted it and parents forbid it. But the latest research by neuroscientists, psychologists, sociologists, and others has revealed that swear words, curses, and oaths—when used judiciously—can have surprising benefits.
In this sparkling debut work of popular science, Emma Byrne examines the latest research to show how swearing can be good for you. With humor and colorful language, she explores every angle of swearing—why we do it, how we do it, and what it tells us about ourselves. Not only has some form of swearing existed since the earliest humans began to communicate, but it has been shown to reduce physical pain, to lower anxiety, to prevent physical violence, to help trauma victims recover language, and to promote human cooperation. Taking readers on a whirlwind tour through scientific experiments, historical case studies, and cutting-edge research on language in both humans and other primates, Byrne defends cursing and demonstrates how much it can reveal about different cultures, their taboos and their values.
Packed with the results of unlikely and often hilarious scientific studies—from the "ice-bucket test" for coping with pain, to the connection between Tourette's and swearing, to a chimpanzee that curses at her handler in sign language—Swearing Is Good for You presents a lighthearted but convincing case for the foulmouthed.
About the Author
Emma Byrne has written on science, language, and society for the BBC, Science, the BMJ, the Financial Times, and Forbes. She lives in London.
Praise For Swearing Is Good for You: The Amazing Science of Bad Language…
An entertaining and often enlightening book. . . Byrne's readers are sure to come away with a fresh appreciation of language at its most foul.

A poppy, comprehensive look at an often taboo topic.

Shit, this book is fascinating.

In Swearing Is Good for You, Emma Byrne unearths an unorthodox body of research to reveal how swearing helps reduce pain and anxiety and can even bring people together. This fascinating debut is perfect for fans of Mary Roach.


Engaging and conversational. . . . Byrne provides a refreshing, entertaining, instructive examination of a 'surprisingly flexible part of a linguistic repertoire.'

Engaging and often irreverent. . . . Byrne's style is conversational [and] entertaining.

Byrne crafts an enthusiastic case for bad language. . . . [Her] immensely readable first outing will be a real fucking treat.

A good book about bad language by a trash-talking woman? Sign me up! Swearing Is Good for You makes science feel downright celebratory.

— Mary Norris, best-selling author of Between You & Me