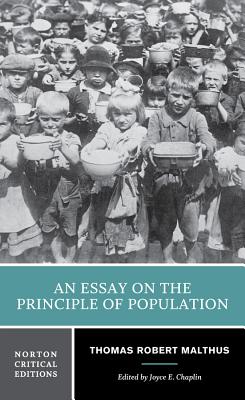 An Essay on the Principle of Population (Norton Critical Editions) (Paperback)
W. W. Norton & Company, 9781324000556, 344pp.
Publication Date: September 25, 2017
Other Editions of This Title:
Paperback (2/2/2018)
Hardcover (5/20/2016)
Hardcover (5/20/2016)
Paperback (2/13/2018)
* Individual store prices may vary.
Description
The world's population is now 7.4 billion people, placing ever greater demands on our natural resources. As we stand witness to a possible reversal of modernity's positive trends, Malthus's pessimism is worth full reconsideration.
This Norton Critical Edition includes:
· An introduction and explanatory annotations by Joyce E. Chaplin.
· Malthus's
Essay
in its first published version (1798) along with selections from the expanded version (1803), which he considered definitive, as well as his Appendix (1806).
· An unusually rich selection of supporting materials thematically arranged to promote classroom discussion. Topics include
"Influences on Malthus," "Economics, Population, and Ethics after Malthus," "Malthus and Global Challenges," and "Malthusianism in Fiction."
· A Chronology and a Selected Bibliography.
About the Author
Joyce E. Chaplin is James Duncan Phillips Professor of Early American History at Harvard University. She has taught at five different universities on two continents and an island and in a maritime studies program in the middle of the Atlantic Ocean. She is the author of An Anxious Pursuit: Agricultural Innovation and Modernity in the Lower South, 1730–1815 (1993), Subject Matter: Technology, the Body, and Science on the Anglo-American Frontier, 1500–1676 (2001), The First Scientific American: Benjamin Franklin and the Pursuit of Genius (2006), and Benjamin Franklin's Political Arithmetic: A Materialist View of Humanity (2009).