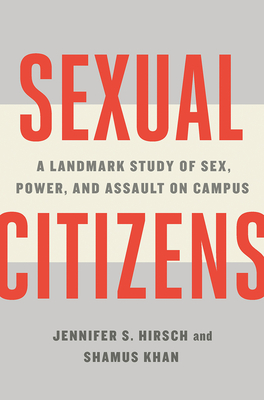 Sexual Citizens
A Landmark Study of Sex, Power, and Assault on Campus
Hardcover

* Individual store prices may vary.
Other Editions of This Title:
Paperback (1/26/2021)
MP3 CD (3/17/2020)
Description
A groundbreaking study that transforms how we see and address the most misunderstood problem on college campuses: widespread sexual assault.
The fear of campus sexual assault has become an inextricable part of the college experience. Research has shown that by the time they graduate, as many as one in three women and almost one in six men will have been sexually assaulted. But why is sexual assault such a common feature of college life? And what can be done to prevent it? Drawing on the Sexual Health Initiative to Foster Transformation (SHIFT) at Columbia University, the most comprehensive study of sexual assault on a campus to date, Jennifer S. Hirsch and Shamus Khan present an entirely new framework that emphasizes sexual assault's social roots—transcending current debates about consent, predators in a "hunting ground," and the dangers of hooking up.
Sexual Citizens is based on years of research interviewing and observing college life—with students of different races, genders, sexual orientations, and socioeconomic backgrounds. Hirsch and Khan's landmark study reveals the social ecosystem that makes sexual assault so predictable, explaining how physical spaces, alcohol, peer groups, and cultural norms influence young people's experiences and interpretations of both sex and sexual assault. Through the powerful concepts of "sexual projects," "sexual citizenship," and "sexual geographies," the authors offer a new and widely-accessible language for understanding the forces that shape young people's sexual relationships. Empathetic, insightful, and far-ranging, Sexual Citizens transforms our understanding of sexual assault and offers a roadmap for how to address it.
Praise For Sexual Citizens: A Landmark Study of Sex, Power, and Assault on Campus…
Profoundly eye-opening....Hirsch and Khan present a novel model for explaining and responding to campus sexual assault.
— Claire M. Renzetti - Science

A clear, intersectional picture of the forces breeding a campus culture that bulldozes consent, as well as a path forward that emphasizes empathy, mutual respect, and bodily autonomy.
— Adrienne Westenfeld - Esquire

A readable and thought-provoking work on a topic of concern on college campuses. The SHIFT project generated many academic publications, but this book successfully reaches a general audience, specifically students, parents, and policymakers.
— Library Journal (starred review)

Incisive....This detailed, practical inquiry should be mandatory reading for college administrators and parents of college-age children.
— Publishers Weekly

Excellent....Absolutely essential reading to prepare teens for what they'll encounter in college on both the social and sexual fronts.
— Booklist

A timely and sweeping reassessment of campus sexual assault. Hirsch and Khan bring rich data and trenchant insight to bear on one of today's most urgent issues. This is an exemplary work, sensitive to intersecting inequalities, that represents the future of social science. Provocative and profoundly relevant, Sexual Citizens opens up the possibility of crafting policies that engage the complicated realities of students' lives with honesty and empathy.

— Alondra Nelson, president of the Social Science Research Council

This extraordinary book situates campus sexual assault in context. It teaches us how any particular sexual encounter is shaped as much by the people involved as it is by the history and prior education of the participants, by economic inequality, by the physical and social geography in which they are living. All of us with a responsibility for creating the campus spaces that can generate—or harm—health need to read this book.
— Sandro Galea, Dean and Robert A. Knox Professor, School of Public Health, Boston University

Written with humanity and sharp sociological insight, Hirsch and Khan's ecological approach moves beyond the adversarial model that has embroiled debates on campus sexual assault. It opens up new ways for thinking about—and responding to—the pressing problem of sexual assault on college campuses. Sexual Citizens will be essential reading for parents, young people, medical professionals, and educators.

— Jennifer Cole, professor and chair, Department of Comparative Human Development, University of Chicago

Hirsch and Khan's systematic public health approach to campus sexual assault not only urges empathic action but also outlines possible solutions to this communal problem. A timely and persuasive contribution to today's national conversation. A must-read!
— Claire E. Sterk, president and Charles Howard Candler Professor of Public Health, Emory University

Timely, authentic, and revolutionary.
— J. Dennis Fortenberry, Donald Orr Professor of Adolescent Medicine, Indiana University School of Medicine
W. W. Norton & Company, 9781324001706, 432pp.
Publication Date: January 14, 2020
About the Author
Jennifer S. Hirsch is a professor of sociomedical sciences at the Mailman School of Public Health at Columbia University, and codirected SHIFT.

Shamus Khan is a professor of sociology and American studies at Princeton University, and coheaded the ethnographic team of SHIFT, the Sexual Health Initiative to Foster Transformation, at Columbia University.
Coverage from NPR