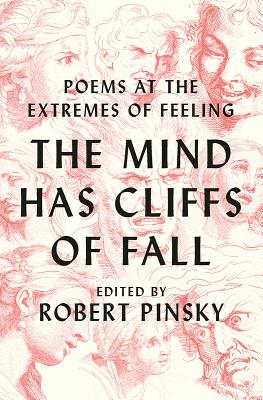 The Mind Has Cliffs of Fall
Poems at the Extremes of Feeling
Hardcover

* Individual store prices may vary.
Other Editions of This Title:
Paperback (7/27/2021)
Description
A bold new anthology of poems that contend with the most extreme human emotions, from former Poet Laureate Robert Pinsky.
Despair, mania, rage, guilt, derangement, fantasy: poetry is our most intimate, personal source for the urgency of these experiences. Poems get under our skin; they engage with the balm, and the sting, of understanding. In The Mind Has Cliffs of Fall—its title inspired by a Gerard Manley Hopkins poem—acclaimed poet Robert Pinsky gives us more than 130 poems that explore emotion at its most expansive, distinct, and profound.
With seven illuminating chapters and succinct headnotes for each poem, Pinsky leads us through the book's sweeping historical range. Each chapter, with contents chronologically presented from Shakespeare to Terrance Hayes, Dante to Patricia Lockwood, shows the persistence and variation in our states of mind. "The Sleep of Reason" explores sanity and the imagination, moving from William Cowper's "Lines Written During a Time of Insanity" to Nicole Sealey's "a violence." "Grief" includes Walt Whitman's "When Lilacs last in the Door-yard Bloom'd" and Marie Howe's "What the Living Do," and "Manic Laughter" highlights both Lewis Carroll and Martín Espada. Each poem reveals something new about the vastness of human emotion; taken together they offer a sweeping ode to the power of poetry.
Guided by "our finest living example of [the American civic poet]" (New York Times), The Mind Has Cliffs of Fall demonstrates how extreme feelings can be complementary and contradicting, and how poetry is not just an expression of emotion, but emotion itself.
Praise For The Mind Has Cliffs of Fall: Poems at the Extremes of Feeling…
The Mind Has Cliffs of Fall is a thrilling roller-coaster ride of an anthology. Just when you think you have mastered the pitch and roll of one emotional extreme, you find yourself careening around a bend into a different extreme. And Pinsky's individual selections are at once deft and surprising: a Renaissance Old Master like Fulke Greville sits cheek-by-jowl with poets like Keetje Kuipers and Katie Willingham, born within hailing distance of the present. The collection is a perfect introduction to poetry's enduring power to explore the utmost bounds of our experience.

— Stephen Greenblatt, Pulitzer Prize winner and author of Tyrant

This compelling, eloquent anthology achieves what might otherwise seem impossible: persuading the unsayable into melody and cadence and meaning. States of grief, doubt, turmoil, regret, whose roots are usually in shadow and silence, become memorable poems here. For anyone who knows these human feelings—and almost everyone does—this book will become an essential companion.
— Eavan Boland, author of A Poet's Dublin

Lovely, so deep, verses so well positioned to each other…We 'fall' into the careful labyrinths mapped and guided by Pinsky, with things to hold on to—delicate preludes, bold structures, preliminary introductions. The 'cliffs' are various, that is, the poems, their 'feeling' forces, their inner apogees of power…A treasure, this book, an alarming call to the present—a fiery devouring black hole of mind-stars blows out to topple you and burn you down—so you can live again.
— Juan Felipe Herrera, United States Poet Laureate, 2015–2017

This magnificent collection of deeply felt poems includes many of our favorites but just as many unfamiliar and delightful surprises, each one introduced with quick analytical insight and panache by the former Poet Laureate, who knows his field as well as anyone alive. The result is a lively, stimulating reading experience from end to end.
— Phillip Lopate, author of A Mother's Tale
W. W. Norton & Company, 9781324001782, 256pp.
Publication Date: October 22, 2019
About the Author
Robert Pinsky is the author of numerous books of poetry, including the Pulitzer Prize finalist The Figured Wheel, and prose, including The Sounds of Poetry. He served as United States Poet Laureate from 1997 to 2000, during which time he founded the Favorite Poem Project. He has edited several anthologies, most recently The Book of Poetry for Hard Times. Pinsky teaches at Boston University and lives in Cambridge, Massachusetts.