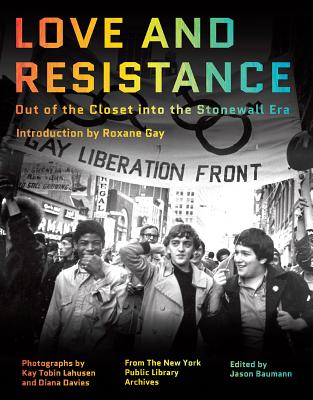 Love and Resistance
Out of the Closet into the Stonewall Era
Hardcover

* Individual store prices may vary.
Description
More than one hundred vivid photographs of the LGBTQ revolution—and its public and intimate moments in the 1960s and 70s—that lit a fire still burning today.
A ragtag group of women protesting behind a police line in the rain. A face in a crowd holding a sign that says, "Hi Mom, Guess What!" at a gay rights rally. Two lovers kissing under a tree. These indelible images are among the thousands housed in the New York Public Library's archive of photographs of 1960s and '70s LGBTQ history from photojournalists Kay Tobin Lahusen and Diana Davies. Lahusen is a pioneering photojournalist who captured pivotal moments in the LGBTQ civil rights movement. Davies, in turn, is one of the most important photojournalists who documented gay, lesbian, and trans liberation, as well as civil rights, feminist, and antiwar movements.
This powerful collection—which captures the energy, humor, and humanity of the groundbreaking protests that surrounded the Stonewall Riots—celebrates the diversity of this rights movement, both in the subjects of the photos and by presenting Lahusen and Davies' distinctive work and perspectives in conversation with each other. A preface, captions, and part introductions from curator Jason Baumann provide illuminating historical context. And an introduction from Roxane Gay, best-selling author of Hunger, speaks to the continued importance of these iconic photos of resistance.
Praise For Love and Resistance: Out of the Closet into the Stonewall Era…
If you're curious about what that first march looked like in 1970, or the names and faces of the earliest activists who got us from there to here, there is no better place to start…Superb.
— Charles Kaiser - Guardian

Haunting and arresting…A literary celebration commemorating the 50-year anniversary of the epic Stonewall riots, the book is elegiac yet also provides a reflective and hopeful reminder for future generations that change and promise can arise from struggle and sacrifice.
— Kirkus Reviews (starred review)

Nearly every photograph brims with stories deserving their own book, thus making this volume but a rich beginning.
— Booklist

The photos movingly present the various colorful personalities and groups, the marches, the protests, the parties, and the pride and passion of these pioneers of the LGBTQ rights community.
— Library Journal

This collection provides important archival visuals to a still-underreported slice of history.
— Publishers Weekly

These beautiful photographs and the text that accompanies them provide a dynamic window into the birth of the modern gay rights movement. They enliven the uncommonly courageous men and women who refused to accept the disparaging labels of their time. For those of us lucky enough to live in more accepting times, this is crucial history. But it is also a record of the fact that these people, in among their gestures of nobility, were fun and funny and lively and romantic; in short it shows, as nothing has before, the touching, vulnerable humanity of the people who remade our society.
— Andrew Solomon, author of Far from the Tree

What a surprise! Love and Resistance is a delicious collection of photographs, dozens of them never before published. Here in the early years of the gay movement are the many people, now famous or not, playing out their roles in what was then a barely inaugurated rebellion. The photos are the work of two gifted artists, Kay Tobin Lahusen and Diana Davies, both of whom wonderfully capture the excitement and exuberance of the birth of gay liberation.

— Martin Duberman author of Stonewall, Cures, and Luminous Traitor: The Just and Daring Life of Roger Casement
W. W. Norton & Company, 9781324002062, 224pp.
Publication Date: March 5, 2019
About the Author
Roxane Gay is the author of five books, including the best-selling Bad Feminist. She lives in Los Angeles, California.

Jason Baumann coordinates the New York Public Library's LGBT Initiative, for which he has curated multiple exhibitions, including one on the photography of Kay Tobin Lahusen and Diana Davies and their historical context. He lives in New York City.
or
Not Currently Available for Direct Purchase