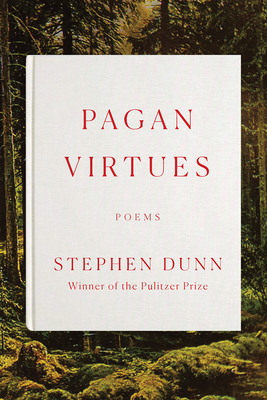 Pagan Virtues (Hardcover)
Poems
W. W. Norton & Company, 9781324002314, 96pp.
Publication Date: November 19, 2019
* Individual store prices may vary.
Description
Pulitzer Prize winner Stephen Dunn returns with his signature morbid wit, intellectual daring, and emotive powers on full display.
In this meditative and incisive collection, Stephen Dunn draws on themes of morality and mortality to explore the innermost machinations of human nature. Shifting in tone but never wavering in their essential honesty, these poems reflect on desire, restraint, and the roles we play in an ever-evolving society. In Pagan Virtues, Dunn reminds us of his penetrating eye for the universal and the specific, and his ability to highlight our contradictions with tenderness and wit.
Two poems dedicated to Dunn's eulogist, in advance, bookend the collection. The first introduces us to the poet's sardonic candor and unflinching gaze at his own mortality, while the latter, written nineteen years later, reflects on what it means to continue to live in the "despoiled and radiant now." A stunning sequence on the relationship between the speaker and "Mrs. Cavendish" examines an intimacy sustained and repelled by politics, philosophy, and attraction. Wry, observational, and wide-reaching, Pagan Virtues offers indispensable truths from a master of contemporary poetry.
About the Author
Stephen Dunn is the author of nineteen poetry collections, including the Pulitzer Prize–winning Different Hours, and was a finalist for the National Book Critics Circle Award and the recipient of an Academy Award for Literature. His poems have appeared in The New Yorker, Atlantic, and American Poetry Review, among many other publications. A distinguished professor emeritus at Richard Stockton University, he lives in Frostburg, Maryland.
Praise For Pagan Virtues: Poems…
Over a rich, long career dedicated to poetry, one of Dunn's greatest honesties has been in refusing to look away from our dishonesties—both personal and political—and his new book is another wise study in the truths and half-truths we present to the world.
— Albert Goldbarth, author of The Kitchen Sink

Pagan Virtues is Stephen Dunn at his best—and Dunn's best is about as good as it gets.

— David Wojahn, author of Interrogation Palace

For intelligence, soul, wit, honesty, and courage, so many of us cherish the work of Stephen Dunn. In our ruined nation and on our dying planet, we need his poems more than ever.
— David Huddle, author of Dream Sender

With these wise, late-life poems, Stephen Dunn has given us a new collection that shows us how 'loving / is an achievement, a constancy of renewal.'
— Margaret Gibson, author of Broken Cup