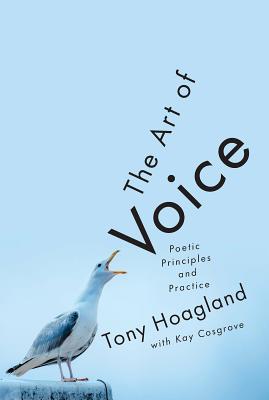 The Art of Voice
Poetic Principles and Practice
Hardcover

* Individual store prices may vary.
Other Editions of This Title:
Paperback (1/14/2020)
Description
An award-winning poet, teacher, and "champion of poetry" (New York Times) demystifies the elusive element of voice.
In this accessible and distilled craft guide, acclaimed poet Tony Hoagland approaches poetry through the frame of poetic voice, that mysterious connective element that binds the speaker and reader together. A poem strong in the dimension of voice is an animate thing of shifting balances, tones, and temperatures, by turns confiding, vulgar, bossy, or cunning—but above all, alive.
The twelve short chapters of The Art of Voice explore ways to create a distinctive poetic voice, including vernacular, authoritative statement, material imagination, speech register, tone-shifting, and using secondary voices as an enriching source of texture in the poem. A comprehensive appendix contains thirty stimulating models and exercises that will help poets cultivate their craft. Mining his personal experience as a poet and analyzing a wide range of examples from Catullus to Marie Howe, Hoagland provides a lively introduction to contemporary poetry and an invaluable guide for any practicing writer.
Praise For The Art of Voice: Poetic Principles and Practice…
Tony Hoagland offers us in his poetry one of the most distinctive voices of our time. Now, in this last work of criticism he completed, he gives us a book focused directly on how a poetic voice is created, how the poet establishes a vivid personality who seems to be standing behind every line, and how in the course of the poem the poet manages to close the distance between speaker and reader to create an intimate bond. Everyone who cares about poetry will profit from this practical and luminous book.
— Carl Dennis

Tony Hoagland was one of our greatest masters of the nuances, complexities, and vagaries of poetic voice. His seductive, deeply moving poems are, as he liked to say, 'connective,' beginning in conversation and aspiring to intimacy between a poem's speaker and its reader. In The Art of Voice, Hoagland meditates on the possibilities available to those who would also aspire to poetic voice…This is a brilliant book by one of this country's foremost poets.

— Kevin Prufer

Tony Hoagland's rich scholarly savvy is tethered to the passion of a poet who lived as a poetry teacher. His breezy explications double as intimate, straightforward musings. His insights about audience and tone double as insights about how we speak to one another. The Art of Voice offers poetry as a life force, a means of humanizing a complex world. We are lucky to be left with this work of scrutinizing care and instruction.

— Terrance Hayes

In one of the last critical endeavors of his life, Tony Hoagland lends his extensive Apollonian critical dexterity to answering questions about what makes the who of a poem audible and apt. Anybody who loves poetry—and wants to ponder again that old-fashioned question about the character of our speakers in any genre—has got to read this book.

— Adrian Blevins
W. W. Norton & Company, 9781324002680, 176pp.
Publication Date: March 5, 2019
About the Author
Tony Hoagland (1953—2018) was the award-winning author of seven poetry collections, including the National Book Critics Circle Finalist What Narcissism Means to Me and Priest Turned Therapist Treats Fear of God, and two essay collections. He taught at the University of Houston and conducted a community workshop in Santa Fe, New Mexico, where he lived.