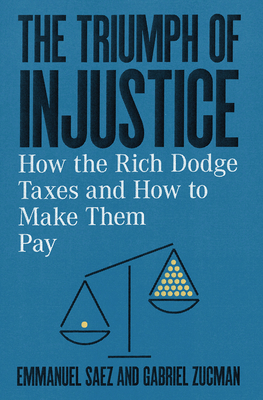 The Triumph of Injustice
How the Rich Dodge Taxes and How to Make Them Pay
Hardcover

* Individual store prices may vary.
Other Editions of This Title:
Digital Audiobook (10/14/2019)
Paperback (10/20/2020)
Paperback, Chinese (6/3/2020)
Description
America's runaway inequality has an engine: our unjust tax system.
Even as they became fabulously wealthy, the ultra-rich have had their taxes collapse to levels last seen in the 1920s. Meanwhile, working-class Americans have been asked to pay more. The Triumph of Injustice presents a forensic investigation into this dramatic transformation, written by two economists who revolutionized the study of inequality. Eschewing anecdotes and case studies, Emmanuel Saez and Gabriel Zucman offer a comprehensive view of America's tax system, based on new statistics covering all taxes paid at all levels of government. Their conclusion? For the first time in more than a century, billionaires now pay lower tax rates than their secretaries.
Blending history and cutting-edge economic analysis, and writing in lively and jargon-free prose, Saez and Zucman dissect the deliberate choices (and sins of indecision) that have brought us to today: the gradual exemption of capital owners; the surge of a new tax avoidance industry, and the spiral of tax competition among nations. With clarity and concision, they explain how America turned away from the most progressive tax system in history to embrace policies that only serve to compound the wealth of a few.
But The Triumph of Injustice is much more than a laser-sharp analysis of one of the great political and intellectual failures of our time. Saez and Zucman propose a visionary, democratic, and practical reinvention of taxes, outlining reforms that can allow tax justice to triumph in today's globalized world and democracy to prevail over concentrated wealth.
A pioneering companion website allows anyone to evaluate proposals made by the authors, and to develop their own alternative tax reform at taxjusticenow.org.
Praise For The Triumph of Injustice: How the Rich Dodge Taxes and How to Make Them Pay…
[T]he most important book on government policy that I've read in a long time.
— David Leonhardt - New York Times

One of the best books I've read this year. Crystal clear, rigorously empirical. Should be read by policymakers from around the globe, especially in the US. It's the to-do-list for the next president.

— Rutger Bregman, author of Utopia for Realists

In 2018, for the first time in more than one hundred years, billionaires paid a lower tax rate than ordinary workers, crowning the dismantling of America's system of progressive taxation. In this eye-opening book, Emmanuel Saez and Gabriel Zucman show that there is no iron law of economics that led us there, just many whose self-interest or misunderstanding of economics make them claim the opposite. Their radical proposal to reinvent taxation for a globalized world will become an unavoidable starting point to any intelligent conversation.
— Esther Duflo, winner of the Nobel Prize in Economics and author of Poor Economics: A Radical Rethinking of the Way to Fight Global Poverty

America is tired with inequality and oligarchy. Armed with eye-popping new data, Emmanuel Saez and Gabriel Zucman reveal how tax injustice is fueling the oligarchic drift. But above all, they propose bold solutions to help America reconnect with its tradition of tax justice, from the taxation of extreme wealth and giant corporations to the funding of health care for all. This is a brilliantly argued book that is an essential contribution to the global economic and political debate of the twenty-first century.
— Thomas Piketty, author of Capital in the Twenty-First Century

The Triumph of Injustice is a groundbreaking work that uncovers a diabolical driver of America's shocking and growing inequality: unfair and regressive tax policies and a tax avoidance industry that serves the wealthy at the expense of everyone else. Until we reverse this topsy-turvy regime—where ordinary workers may pay a larger share of their income than the very richest Americans—we can't hope to address our biggest social problems. Anyone who hopes for a better future for everyday Americans needs to read this book.

— Joseph E. Stiglitz, winner of the Nobel Prize in Economics and author of People, Power, and Profits: Progressive Capitalism for an Age of Discontent
W. W. Norton & Company, 9781324002727, 232pp.
Publication Date: October 15, 2019
About the Author
Emmanuel Saez is professor of economics and director of the Center for Equitable Growth at the University of California, Berkeley. His research focuses on tax policy and inequality from both theoretical and empirical perspectives. With Thomas Piketty, he has constructed long-run historical series of income inequality in the United States that have been widely discussed in public debate. He received his PhD in economics from MIT in 1999. He was awarded the John Bates Clark Medal of the American Economic Association in 2009 and a MacArthur Fellowship in 2010.

Gabriel Zucman is professor of economics and public policy at the University of California, Berkeley. His research analyzes the accumulation and distribution of wealth through global and historical perspectives. He received his PhD in economics from the Paris School of Economics in 2013. He was awarded the Bernácer Prize in 2018 and a Sloan Research Fellowship in 2019. He is the author of The Hidden Wealth of Nations: The Scourge of Tax Havens, which has been translated into eighteen languages.