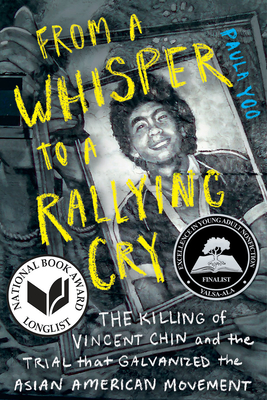 From a Whisper to a Rallying Cry
The Killing of Vincent Chin and the Trial that Galvanized the Asian American Movement
Hardcover

* Individual store prices may vary.
Description
A compelling account of the killing of Vincent Chin, the verdicts that took the Asian American community to the streets in protest, and the groundbreaking civil rights trial that followed. 
America in 1982: Japanese car companies are on the rise and believed to be putting U.S. autoworkers out of their jobs. Anti–Asian American sentiment simmers, especially in Detroit. A bar fight turns fatal, leaving a Chinese American man, Vincent Chin, beaten to death at the hands of two white men, autoworker Ronald Ebens and his stepson, Michael Nitz.
Paula Yoo has crafted a searing examination of the killing and the trial and verdicts that followed. When Ebens and Nitz pled guilty to manslaughter and received only a $3,000 fine and three years' probation, the lenient sentence sparked outrage. The protests that followed led to a federal civil rights trial—the first involving a crime against an Asian American—and galvanized what came to be known as the Asian American movement.
Extensively researched from court transcripts, contemporary news accounts, and in-person interviews with key participants, From a Whisper to a Rallying Cry is a suspenseful, nuanced, and authoritative portrait of a pivotal moment in civil rights history, and a man who became a symbol against hatred and racism.
Praise For From a Whisper to a Rallying Cry: The Killing of Vincent Chin and the Trial that Galvanized the Asian American Movement…
A vivid, heartbreaking account of one of the most important moments in Asian American history. I couldn't put it down.
— Gene Luen Yang

A tremendous feat of both research and writing—and a major contribution to our inspiring and infuriating American story.
— Steve Sheinkin

This clear and lucid account, based on in-depth research, superlatively conveys the context and significance of the events.... An accessible and compelling account of a tragedy that resonates through the decades.
— Kirkus Reviews (starred review)

Admirably objective.... Yoo discusses the resurgence of anti-Asian attitudes and rhetoric in connection to COVID-19, reinforcing the book's through line that Chin mustn't be forgotten.
— Booklist (starred review)

Yoo skillfully retells the life story of Vincent Chin [and] reminds readers of Chin's legacy 'to fight back against hate.'
— Horn Book Magazine (starred review)
Norton Young Readers, 9781324002871, 384pp.
Publication Date: April 20, 2021
About the Author
Paula Yoo is an award-winning children's picture book author and novelist, a prolific TV writer/producer, and a freelance violinist. From a Whisper to a Rallying Cry is her debut YA nonfiction book. She lives in Los Angeles.