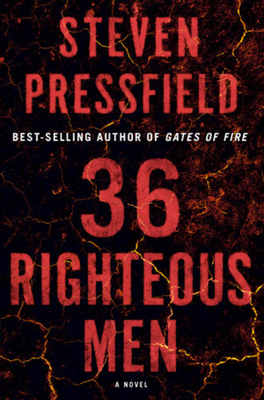 36 Righteous Men
A Novel
Hardcover

* Individual store prices may vary.
Other Editions of This Title:
Digital Audiobook (2/4/2021)
Paperback (11/24/2020)
Description
New York homicide detectives pursue a serial killer in this apocalyptic thriller.
When James Manning and Covina "Dewey" Duwai are called in to investigate a string of murders, their investigations take them from the headquarters of the Russian mafia in Brighton Beach to a sweltering maze of shops in Little Hong Kong, with scant leads on the killer. But when Manning and Dewey apprehend a woman—a disgraced but brilliant rabbinical scholar—fleeing one of the crime scenes, they're brought face-to-face with the shocking truth: the Jewish legend of the hidden Righteous Men, the 36 who protect the world from destruction, is no legend at all. They are real, and they are being murdered.
As the bodies pile up and the world tilts further into chaos, Manning and Dewey must protect the last of the Righteous Men from a ruthless killer able to beguile his victims and command them against their will. Plunged into a deadly game of cat and mouse, the detectives find their arsenal of bullets and blades of little use against a foe who knows their every move.
Joining forces with the rabbinical scholar and a renowned anthropologist, Manning and Dewey set off on a perilous quest from New York to Gehenna in Israel to confront a murderer who won't stop until he's killed every one.
Praise For 36 Righteous Men: A Novel…
Pressfield keeps the revelations coming at an apocalyptic pace in this page-turner, where the planet's fate comes to hang by the thread of a single human life.
— Tom Nolan - Wall Street Journal

36 Righteous Men hits my favorite reading pleasures—history, mystery, and theology—all wrapped up in a page-turning thriller. I couldn't put it down

— Randall Wallace, Oscar-nominated screenwriter of Braveheart

Steven Pressfield writes as enchantingly of the hard-boiled mean streets of the future as he has of those same byways of the sword-and-sandals past.
— David Mamet

36 Righteous Men is a stunning futuristic noir thriller that mines the core of Jewish mysticism in search of the future of human survival. Its daring narrative held me in its grip from the start to the shocking end.

— Robert Faggen, professor of literature, Claremont McKenna College

Every scene in 36 Righteous Men unfolds with cinematic intensity. Pressfield's imagination is fierce and disciplined as well as wildly creative, and those qualities serve him well in this strikingly inventive novel.

— Rosanne Cash, singer-songwriter and author of Composed: A Memoir

Like Tom Clancy, Pressfield … writes fast-paced, stripped-down prose that is regularly interrupted by lovingly technical descriptions of computers, cars, and weaponry.
— Adam Kirsch - Tablet Magazine

[U]nputdownable…. While many narrative elements are noteworthy—the character depth, the powerful political and social commentary, the nonstop action, the breakneck pacing—it's the author's meticulously described and alarming realistic near-future earth that will chill readers to their core.
— Publishers Weekly (starred review)

[A]n absorbing take on good vs. evil, and disasters pulled from today's headlines lend unsettling realism to the supernatural-tinged apocalyptic setting.
— Booklist
W. W. Norton & Company, 9781324002895, 360pp.
Publication Date: November 5, 2019
About the Author
Steven Pressfield is the author of the best-selling novels Gates of Fire and Tides of War, as well as The Legend of Bagger Vance. He is also the author of the classics on creativity The War of Art and Turning Pro. He lives in Los Angeles, California.