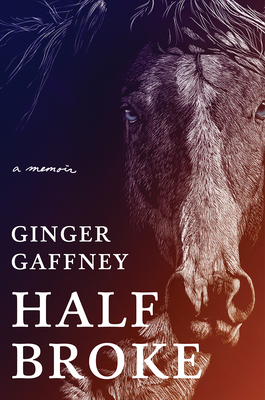 Half Broke
A Memoir
Hardcover

* Individual store prices may vary.
Other Editions of This Title:
Digital Audiobook (3/16/2020)
Paperback (2/9/2021)
Description
A top-ranked horse trainer's gorgeous, life-affirming memoir that offers profound insight into the fascinating ways both horses and humans seek relationships to survive.
At the start of this remarkable story of recovery, healing, and redemption, Ginger Gaffney answers a call to help retrain the troubled horses at an alternative prison ranch in New Mexico, a facility run entirely by the prisoners. The horses are scavenging through the dumpsters, kicking and running down the residents when they bring the trash out after meals. One horse is severely injured.
The horses and residents arrive at the ranch broken in one way or many: the horses are defensive and terrified, while the residents, some battling drug and alcohol addictions, are emotionally and physically shattered. With deep insight into how animals and humans communicate through posture, body language, and honesty of spirit, Gaffney walks us through her struggle to train the untrainable.
Gaffney peels away the layers of her own story—a solitary childhood, painful introversion, and a transformative connection with her first horse, a filly named Belle—and she, too, learns to trust people as much as she trusts horses. As her year-long odyssey builds toward a dramatic conclusion, the group experiences triumphs and failures, brave recoveries and relapses, as well as betrayals and moving stories of trust and belonging.
Resonant, smart, and beautifully written, Half Broke tears at the heart of what it takes to find wholeness after years of trauma and addiction and offers profound insight on how working with animals can satisfy our universal need for connection.
Praise For Half Broke: A Memoir…
Gaffney has a breathtaking and at times nearly otherworldly ability to read horses by closely studying their bodies, and then to capture what she sees with her prose. ...[T]ruly transcendent.
— Jessica Lustig - New York Times Book Review

Ginger Gaffney writes the intricacies of the equine-human relationship as well as I have ever seen it written…She knows a horse's mind as well as she knows her own. You will remember the tenacious and utterly winning people that populate Half Broke for a long, long time, and you will never forget the horses.

— Pam Houston, author of Deep Creek

Written with clarity and compassion, Half Broke is about the astounding power of horses to heal broken human beings. It shows a side of New Mexico that is seldom seen—the poverty and the struggle, but also the hopefulness and odd beauty of spirit within the people and the horses.

— Leslie Marmon Silko, author of Ceremony

Half Broke is a love song to the broken ones, be they human or beast, and all the ways they find to mend. Ginger Gaffney's prose is as clean and lovely as the land she describes, and this story is one that hinges on some of the deepest truths. Among them the fact that loving well is the best medicine, and though we may not recover in a way that preserves the person we were, such loss is not without mercy.

— Melissa Febos, author of Whip Smart and Abandon Me

Ginger Gaffney is a bold and original talent. This poignant, positive story of human and equine transformation subtly combines the author's own healing with the challenge of teaching difficult people to work with deeply scared horses. The characters leap off the page and into your heart. Savor this book, and then buy a copy for your best friend.
— Anne Hillerman, New York Times best-selling author of the Leaphorn, Chee, and Manuelito novels

Gaffney pulls off the impressive feat of translating horses and humans. She creates lyricism through experience, landscape, and empathy.
— Gretchen Lida - Washington Independent Review of Books

Fascinating. … [S]ome of the most compelling characters here don't speak in words: they are horses. And in Gaffney's story, they come alive.
— Deborah Hopkinson - BookPage

"Half Broke" — with its painful candor and spare, incisive prose — is captivating.
— Michael Upchurch - Seattle Times

This book astonished, excited, enlightened, and humbled me. I loved it, loved it, loved it. This marvelous memoir, peopled with folks in serious trouble of one kind or another, and the horses they care for, creatures with their own sophisticated ways of communicating, taught me as much about language as have my seventy-seven years on the planet.
— Abigail Thomas, New York Times best-selling author of What Comes Next and How to Like It

With sensitive, soul-bearing prose, Gaffney weaves together her personal experiences as a horse trainer with the struggles of damaged humans and damaged horses. I was also moved by the depth of vulnerability and intuition of the horses.
— Jonathan Balcombe, author of What a Fish Knows

[A] powerful debut.
— Publishers Weekly

In the pages of Half Broke is the rare gift of story exquisitely told, a book that shows us how to save ourselves by saving what we've left behind.

— Nickole Brown, author of To Those Who Were Our First Gods

Half Broke asks us to look at horses and ourselves in a new way. Gaffney's vivid and engaging stories of 'teaching horses how to feel comfortable in the world of humans' inspires us, like the author, to 'love their world more.' A very moving book for all animal lovers from a true horse whisperer.

— Brenda Peterson, author of Wolf Nation: The Life, Death, and Return of Wild American Wolves

An engaging ... [and] heartening story of healing and interspecies connection.
— Kirkus Reviews
W. W. Norton & Company, 9781324003076, 272pp.
Publication Date: February 4, 2020
About the Author
Ginger Gaffney is a top-ranked horse trainer. She received an MFA from the Institute of American Indian Arts in Santa Fe, and her work has been published in Tin House and Utne Reader. She lives in Velarde, New Mexico.
1. Ginger describes the human-horse relationship she encounters on her first day at the ranch as "the most dangerous horse situation I have ever encountered." Why?
2. Ginger writes that "movement, and the lack thereof, is an emotional story. It tells all." What might she mean? What resonance might this have in light of her work with training the horses on the ranch and the livestock team?
3. The horses and humans in this book forge profound, individual relationships. There's Tony and Willie. Moe and Randy. Eliza and Scout. Joey and Luna. Which horse-human pairing is your favorite and why?
4. Over the course of the book, Ginger comes to spend more and more time on the ranch, despite not been paid for her work. Why does she continue to visit the ranch? What does the ranch and the people on the ranch mean to Ginger?
5. How is recovery (from addiction, from trauma) portrayed in this memoir?
6. We see many of the residents and horses at the ranch change over the course of the book. Is the same true for Ginger?
7. Ginger shares the story of Terry, the filly whom she rides though it had yet "to come through". The horse ends up with a sprained leg as a result. Why does Ginger share this story? What does it tell us about horses and Ginger's approach to training horses?
8. What do the members of the livestock team learn from the horses under their care? How do the horses and the humans help each other?
9. Ginger writes that Luna is half broke. What does she mean by that?
10. Throughout the book, Ginger generously shares her knowledge about horses and how to care for them. We learn, for example, how movement is part of the language of horses. Where you surprised by any of the information Ginger shares about the psyche, emotion, and language of horses?
or
Not Currently Available for Direct Purchase