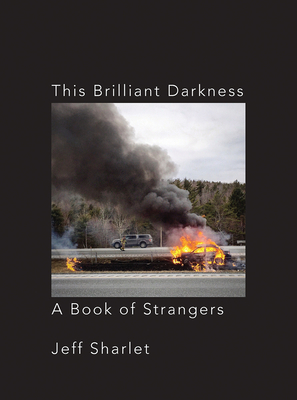 This Brilliant Darkness
A Book of Strangers
Hardcover

* Individual store prices may vary.
Description
A visionary work of radical empathy.
Known for immersion journalism that is more immersed than most people are willing to go, and for a prose style that is somehow both fierce and soulful, Jeff Sharlet dives deep into the darkness around us and awaiting us.
This work began when his father had a heart attack; two years later, Jeff, still in his forties, had a heart attack of his own. In the grip of writerly self-doubt, Jeff turned to images, taking snapshots and posting them on Instagram, writing short, true stories that bloomed into documentary. During those two years, he spent a lot of time on the road: meeting strangers working night shifts as he drove through the mountains to see his father; exploring the life and death of Charley Keunang, a once-aspiring actor shot by the police on LA's Skid Row; documenting gay pride amidst the violent homophobia of Putin's Russia; passing time with homeless teen addicts in Dublin; and accompanying a lonely woman, whose only friend was a houseplant, on shopping trips.
Early readers have called this book "incantatory," the voice "prophetic," in "James Agee's tradition of looking at the reality of American lives." Defined by insomnia and late-night driving and the companionship of other darkness-dwellers—night bakers and last-call drinkers, frightened people and frightening people, the homeless, the lost (or merely disoriented), and other people on the margins—This Brilliant Darkness erases the boundaries between author, subject, and reader to ask: how do people live with suffering?
Praise For This Brilliant Darkness: A Book of Strangers…
A luminous, moving and visual record of fleeting moments of connection.

Sharlet's haunting photos accompany clipped, pointillist, but expressive prose that evokes character and tragedy...The result is a triumph of visual and written storytelling, both evocative and moving.

Sharlet provides a poignant and wholly intimate portrait of the lives of those who are often overlooked in our society, breathing a sense of humanity in a part of our world that is so often inhumane. A highly recommended book that is at times difficult to take in and difficult to put down.

One of the most beautiful works I've ever read. This Brilliant Darkness is dazzling and addictive, a constellation of stories about how we love before we die. This book breathes.

— Blair Braverman, author of Welcome to the Goddamn Ice Cube

A phenomenally original book that will press into your chest about as deeply as literature can go. Sharlet is his generation's Steinbeck.
— Timothy Tyson, author of The Blood of Emmett Till

Propelled and sustained by Sharlet's crystalline attention and his electric voice, at once bold and precise, this stunning book will stay in me for good.
— Leslie Jamison, author of The Empathy Exams

This book of photographs and extended captions becomes a gallery of souls, and somehow, by patient accretion, a guidebook to staying human in the panopticon. It speaks back to the deafening noise of our moment with quiet power.
— John Jeremiah Sullivan, author of Pulphead

This Brilliant Darkness embodies what it invites—real consideration and reconsideration of our own company, what we fellow travelers do and do not share. Jeff Sharlet suggestively notes that our unreliable bodies are their own unreliable narrators. He has put his own on the line. Spend time with him there.

— Adrian Nicole LeBlanc, author of Random Family

Bless Jeff Sharlet for not walking away, but sharing his humanity by bridging the deadly gap of isolation with love.
— Terry Tempest Williams, author of Erosion: Essays of Undoing

[This Brilliant Darkness] shines like a fire in the night: It brings us close, lights the darkness, and shows us unseen worlds.

— Michael Lesy, author of Wisconsin Death Trip
W. W. Norton & Company, 9781324003205, 336pp.
Publication Date: February 11, 2020
About the Author
Jeff Sharlet is associate professor of English and creative writing at Dartmouth, and the best-selling author of The Family (made into a Netflix documentary series), This Brilliant Darkness, C Street, and Sweet Heaven When I Die. His work has earned numerous awards, including the National Magazine Award and the Outspoken Award.
Coverage from NPR