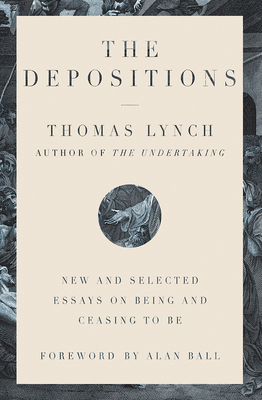 The Depositions
New and Selected Essays on Being and Ceasing to Be
Hardcover

* Individual store prices may vary.
Other Editions of This Title:
Paperback (3/30/2021)
Description
A wry and compassionate selection of essays reflecting on mortals and mortality, from the acclaimed author of The Undertaking.
For nearly four decades, poet, essayist, and small-town funeral director Thomas Lynch has probed relations between the literary and mortuary arts. His life's work with the dead and the bereaved has informed four previous collections of nonfiction, each exploring identity and humanity with Lynch's signature blend of memoir, meditation, gallows humor, and poetic precision.
The Depositions provides an essential selection from these masterful collections—essays on fatherhood, Irish heritage, funeral rites, and the perils of bodiless obsequies—as well as new essays in which the space between Lynch's hyphenated identities—as an Irish American, undertaker-poet—is narrowed by the deaths of poets, the funerals of friends, the loss of neighbors, intimate estrangements, and the slow demise of a beloved dog.
In "Gladstone," from The Undertaking, Lynch reflects on his then twenty-five years as an undertaker at the Midwinter Conference for Michigan funeral directors, which incongruously takes place on an island in the Caribbean. With brutal, generous honesty, "The Way We Are," from Bodies in Motion and at Rest, grapples with Lynch's time as a single parent coming to terms with generations of his family inheritance of alcoholism and recovery. The press of the author's own mortality animates the new essays, sharpening a curiosity about where we come from, where we go, and what it means.
As Alan Ball writes in a penetrating foreword, Lynch's work allows us "to see both the absurdity and the beauty of death, sometimes simultaneously." With this landmark collection, he continues to illuminate not only how we die, but also how we live.
Praise For The Depositions: New and Selected Essays on Being and Ceasing to Be…
[Lynch's] finest, wryest and most stylish essays about the human enterprise of mortality appear together in this collection...You will be grateful for these graceful essays, which light up so many of the dark details that are part of what is, after all, the one demographic to which we will all belong.
— Scott Simon - New York Times Book Review

[Lynch] writes with grace and moral clarity about the quandaries and perplexities of life, and life's end...'It is nearly impossible to overestimate the balm that language can be,' he writes at one point. If we're talking the language of Thomas Lynch, balm is the right word.
— Joanne Kaufman - Wall Street Journal

[A] wry, poignant collection of [Lynch's] best and newest essays. [The Depositions is] packed with penetrating observations about faith, family, work, art, and, yes, death.

— Kevin Canfield - Minneapolis Star Tribune

When asked if writing about the dead affected her view of life, an obituary writer said 'Yes, I divide everyone into two groups: the dead and the pre-dead.' We of the latter group should be grateful to Thomas Lynch for writing about both with equal facility. His essays gathered here offer the pleasure of observing his curious mind dancing to the tune of his lively prose.
— Billy Collins

Thomas Lynch is one of my favorite living essayists. His mordant humor and openness to grace and mystery are a tonic. I can think of nothing better than to have in one book this collection of his dazzling former essays, plus the dynamite new ones.
— Phillip Lopate
W. W. Norton & Company, 9781324003977, 352pp.
Publication Date: November 26, 2019
About the Author
Thomas Lynch's stories, poems, and essays have appeared in Granta, the Atlantic, Harper's, the New York Times, and elsewhere. His first collection of essays, The Undertaking, was a finalist for the National Book Award. Lynch lives in Milford, Michigan.