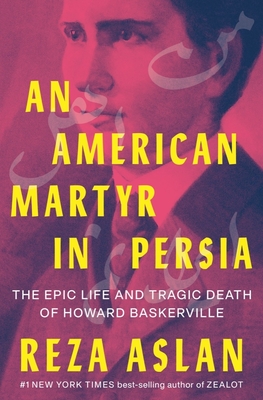 An American Martyr in Persia
The Epic Life and Tragic Death of Howard Baskerville
Hardcover

* Individual store prices may vary.
Description
The #1 New York Times best-selling author of Zealot recounts the spellbinding tale of an unrecognized American martyr for democracy.
As a student of Woodrow Wilson at Princeton, Howard Baskerville was aflame not only with the gospel of Jesus, but with the Wilsonian gospel that constitutional democracy is the birthright of all nations. Rather than become a small-town minister like his father in South Dakota, he volunteered for missionary service in Persia.
Tabriz in 1907 was a hotbed of democratic revolution. Brilliant young firebrands were among Baskerville's students at the Presbyterian school—and became his devoted friends. He lectured on freedom; they dedicated their lives to it. Soon he would join them on the battlefield.
Was Howard Baskerville the "American Lafayette" of Iran, or a naive "white savior" stumbling into Persian affairs? Baskerville's story, like his life, is at the center of a whirlwind, in which Americans must ask themselves, how seriously do we take our ideals of constitutional democracy and whose freedom do we support?
Praise For An American Martyr in Persia: The Epic Life and Tragic Death of Howard Baskerville…
An astonishing story that underscores the power of biography. In Reza Aslan's lyrical voice, Howard Baskerville's short life comes alive as a fantastical fairy tale—a wild and improbable adventure story. But it is all true. Missionary, teacher, soldier and American idealist, Baskerville becomes the Marquis de Lafayette of the 1909 Iranian Constitutional revolution... Aslan's vivid story-telling reminds us that Iran's revolution is quite simply unfinished. The young American martyr of the 1909 revolution remains an inspiration for those Persians who still resist theocracy.
— Kai Bird, Pulitzer Prize-winning author of American Prometheus: The Triumph and Tragedy of J. Robert Oppenheimer, historian and director of the Leon Levy Center for Biography

Beautifully written and immensely readable story of the first Americans in Iran, and of their Iranian contemporaries who fashioned the Muslim world's first constitution. Aslan meticulously weaves Iranian-U.S. relations with palace intrigue, Russian and British designs on Persia, and heart-stopping accounts of battles between the forces of democracy and autocracy—some seventy years before another Iranian revolution grabbed the attention of the west.
— Hooman Majd author of The Ayatollah Begs to Differ

Great read, thoughtful and thought provoking. We must all pay attention to Reza Aslan's timely reminder that 'the suffering of any person anywhere is the responsibility of all peoples everywhere.'
— Azar Nafisi, author of Reading Lolita in Tehran

The story of a pious young man who leaves home intent on converting others to his faith, only to be convinced instead to join their struggle for freedom. Reza Aslan has a unique talent for showing how piety and politics can merge, or quarrel, in the hearts of people. An American Martyr in Persia is a fascinating and thoroughly engrossing biography. A triumph.

— Laila Lalami, Pulitzer Prize finalist and author of Conditional Citizens

In the figure of Howard Baskerville, Aslan has rediscovered the tale of one of the most fascinating and enigmatic figures of the early twentieth century... The story of his short life and tragic death, beautifully told here, is a poignant reminder of the extraordinary affinity that historically existed between the peoples of Iran and the United States and raises the hope that this closeness might someday be kindled anew.
— Scott Anderson, author of The Quiet Americans

An American Martyr in Persia is a riveting story of idealism, intrigue, revolution, tragedy, and ultimately hope. With characteristic eloquence and intelligence, Reza Aslan brings to life a remarkable history that echoes to this day, with much to teach us about modern Iran and about ourselves. Read this book and be reminded of the common humanity that can transcend even our own cavernous divides.

— Ben Rhodes, author of After the Fall

Reza Aslan's An American Martyr in Persia is a stirring reminder of the power of idealism, hope, and courage in the face of tyranny and injustice (you can end the blurb here or continue…) The story of Howard Baskerville is as important today as it was in his lifetime, and Aslan's lucid prose and compelling narrative introduces him to a new generation who will find inspiration in his deeds.

— Viet Thant Nguyen, author of The Sympathizer
W. W. Norton & Company, 9781324004479, 384pp.
Publication Date: October 11, 2022
About the Author
Reza Aslan is an acclaimed writer and scholar of religions. He is the author of the #1 New York Times bestseller Zealot, No God but God, and editor of Tablet & Pen: Literary Landscapes from the Modern Middle East. He lives in Los Angeles, California.