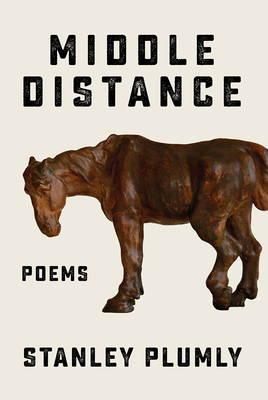 Middle Distance
Poems
Hardcover

* Individual store prices may vary.
Description
A probing and commanding final volume from a master poet facing his own mortality.
After a diagnosis of cancer, acclaimed poet Stanley Plumly found himself in the middle distance—looking back at his childhood and a rich lifetime of family and friends, while gazing into a future shaped by the press of mortality. In Middle Distance, his final collection, he pushes onward into new territory with extended hybrid forms and revelatory prose pieces. The result is the moving culmination of a long career, a work of fearless, transcendent poems that face down the impending eternal voyage.
Plumly populates this collection with tender depictions of poets, family, and friends—the relationships that sustained him throughout his life—as well as unflinching self-portraits. In "White Rhino," for instance, he adopts the voice of the "last of [his] kind," using the rare creature as a canvas to depict the dying, aging poet himself. In "Night Pastorals," he writes vividly and movingly about being on his deathbed, with fragmentary impressions of the other side. In profound lyric narratives, Plumly reaches out to a past that feels closer than ever, returning to the Ohio of his childhood and the shadows of a country at war.
Blending documentary and memoir with his signature Keatsian lyricism, Middle Distance contemplates at every turn the horizons of Plumly's life.
Praise For Middle Distance: Poems…
In these beautiful pages, his last gift to us, Stanley Plumly has gathered his beloveds in a single space: the landscapes, the poets, the light of evening, and 'the one true angel' of childhood. In poems so easy with cadence you might almost imagine that nature herself had invented the stately stanzas and the five-beat line. In prose so rapt with noticing you can almost believe the page remembers the tree it was. This is the poet's final blessing: to hold the precious world in two good hands and say goodbye.
— Linda Gregerson

When Stanley Plumly died of cancer on April 11, 2019, I reread everything I could get my hands on, from In the Outer Dark to Against Sunset; the beautiful prose books, too. Nothing, or everything, prepared me for his Middle Distance. Scary, forthright, complete, by necessity in lines and in prose, Middle Distance is the book of Stan.

— James Longenbach
W. W. Norton & Company, 9781324006145, 96pp.
Publication Date: August 18, 2020
About the Author
Stanley Plumly (1939—2019) authored eleven books of poetry, including the National Book Award finalist and Los Angeles Times Book Prize winner Old Heart. He was also the author of four books of nonfiction, including Elegy Landscapes and The Immortal Evening, winner of the Truman Capote Prize for Literary Criticism. His other honors include the Paterson Poetry Prize and fellowships from the Guggenheim Foundation and the National Endowment for the Arts. He was Maryland's poet laureate from 2009 to 2018.