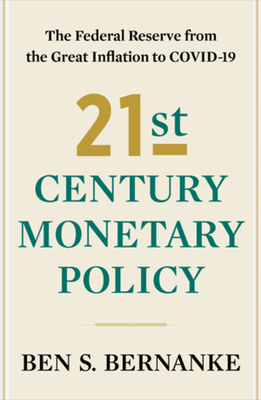 21st Century Monetary Policy
The Federal Reserve from the Great Inflation to COVID-19
Hardcover

* Individual store prices may vary.
Description
21st Century Monetary Policy takes readers inside the Federal Reserve, explaining what it does and why.
In response to the COVID-19 pandemic, the Federal Reserve deployed an extraordinary range of policy tools that helped prevent the collapse of the financial system and the U.S. economy. Chair Jerome Powell and his colleagues lent directly to U.S. businesses, purchased trillions of dollars of government securities, pumped dollars into the international financial system, and crafted a new framework for monetary policy that emphasized job creation.
These strategies would have astonished Powell's late-20th-century predecessors, from William McChesney Martin to Alan Greenspan, and the advent of these tools raises new questions about the future landscape of economic policy.
In 21st Century Monetary Policy, Ben S. Bernanke—former chair of the Federal Reserve and one of the world's leading economists—explains the Fed's evolution and speculates on its future. Taking a fresh look at the bank's policymaking over the past seventy years, including his own time as chair, Bernanke shows how changes in the economy have driven the Fed's innovations. He also lays out new challenges confronting the Fed, including the return of inflation, cryptocurrencies, increased risks of financial instability, and threats to its independence.
Beyond explaining the central bank's new policymaking tools, Bernanke also captures the drama of moments when so much hung on the Fed's decisions, as well as the personalities and philosophies of those who led the institution.
Praise For 21st Century Monetary Policy: The Federal Reserve from the Great Inflation to COVID-19…
This exercise of historical assessment from a central participant is one that more policymakers should probably try. It allows readers to make judgments along with Bernanke and think about what lessons today's policymakers—who are once again battling inflation—might take.
— David Leonhardt - The New York Times

. . . [A] uniquely practical book as the public tries to better understand the powers of the Fed and Congress to juice or slow the economy amid a supply-chain crunch and sky-high demand.
— Andrew Ross Sorkin - The New York Times

Suffused with high-stakes drama and clear thinking, this is one of the best accounts yet of the Fed's tumultuous recent past.
— Publisher's Weekly

A clear explication of how money flows from the nation's central banking system into the larger economy.
— Kirkus
W. W. Norton & Company, 9781324020462, 512pp.
Publication Date: May 17, 2022
About the Author
Ben S. Bernanke is a Distinguished Senior Fellow at the Brookings Institution. Author of the best-selling memoir The Courage to Act, he served as chair of the Federal Reserve from 2006 to 2014.