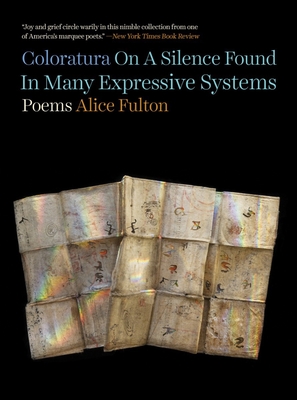 Coloratura On A Silence Found In Many Expressive Systems
Poems
Hardcover

* Individual store prices may vary.
Description
A celebrated poet returns with a vibrant and kaleidoscopic improvisation on the broken body and questing spirit.
"I was living in a high-maintenance loneliness," Alice Fulton writes of a devastating accident, and her poems express both reverence and impatience as they search for a brightness palpable as the dark. The result is a brilliant coloratura on the senses. Fulton evokes phantom aromas of vanished perfumes, flowers fragrant only at night, and the ozone scent of snow; marvels at velvet paintings and chimerical colors outside the spectrum; and riffs on a mixtape of ambient sounds: applause, clinking glasses, spectral voices on the radio, and the whispers of a mother to her children.
Coloratura On A Silence Found In Many Expressive Systems extends these tactile mysteries to existential questions of invisible miracles, connection, and faith in the face of silence: "By praying you, I create you," the poet informs an elusive God. Reveling in the stunning possibilities of language, Fulton seeks joy to counteract trauma and grief, empathizes with the silent pathos of animals, and finds solace in art, friendship, and the mysterious power of gifts. Without denying suffering, this enthralling volume extends a fervent prayer for gratitude and healing.
W. W. Norton & Company, 9781324021087, 136pp.
Publication Date: September 20, 2022
About the Author
Alice Fulton is the author of ten books, most recently Barely Composed: Poems. Her honors include a MacArthur Fellowship, the Bobbitt Prize for Poetry from the Library of Congress, and an American Academy of Arts and Letters Award. She lives in upstate New York.