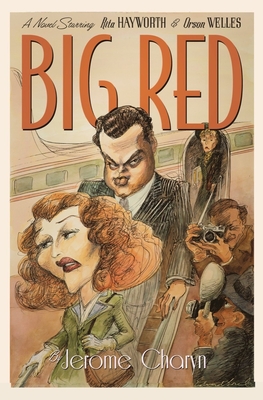 Big Red
A Novel Starring Rita Hayworth and Orson Welles
Hardcover

* Individual store prices may vary.
Description
Apple Books • Best Books of the Month

A Publishers Weekly Summer Reads Selection



Narrated by a starry-eyed lesbian, Big Red reimagines the tragic career of Rita Hayworth and her indomitable husband, Orson Welles.
Since he first appeared on the American literary scene, Jerome Charyn has dazzled readers with his "blunt, brilliantly crafted prose" (Washington Post). Yet Charyn, a beloved comedic novelist, also possesses an extraordinary knowledge of Golden Age Hollywood, having taught film history both in the United States and France.
With Big Red, Charyn reimagines the life of one of America's most enduring icons, "Gilda" herself, Rita Hayworth, whose fiery red tresses and hypnotic dancing graced the silver screen over sixty times in her nearly forty-year career. The quintessential movie star of the 1940s, Hayworth has long been objectified as a sex symbol, pin-up girl, and so-called Love Goddess. Here Charyn, channeling the ghosts of a buried past, finally lifts the veils that have long enshrouded Hayworth, evoking her emotional complexity—her passions, her pain, and her inner turmoil.
Charyn's reimagining of Hayworth's story begins in 1943, in a roomette at the Hollywood Hotel, where narrator Rusty Redburn—an impetuous, second-string gossip columnist from Kalamazoo, Michigan—bides her time between working as a gofer in the publicity offices of Columbia Pictures, volunteering at an indie movie house, and pursuing dalliances with young women on the Sunset Strip. Called upon by the manipulative Columbia movie mogul Harry "The Janitor" Cohn to spy on Hayworth—then, the Dream Factory's most alluring "dame," and Cohn's biggest movie star—Rusty becomes Rita's confidante, accompanying her on a series of madcap adventures with her indomitable husband, the "boy genius" Orson Welles.
But Rusty, an outlaw who can see beyond the prejudices of Hollywood's male-dominated hierarchy, quickly becomes disgusted with the way actresses, and particularly Rita, are exploited by men. As she struggles to balance the dangerous politics of Tinseltown with her desire to protect Rita from ruffians and journalists alike, Rusty has her own encounters—some sweet, some bruising—with characters real and imagined, from Julie Tanaka, an interned Japanese-American friend, to superstars like Clark Gable and Tallulah Bankhead, as well as notorious Hollywood gossip columnist Louella Parsons.
Reanimating such classic films as Gilda and The Lady from Shanghai, Big Red is a bittersweet paean to Hollywood's Golden Age, a tender yet honest portrait of a time before blockbusters and film franchises—one that promises to consume both Hollywood cinephiles and neophytes alike. Lauded for his "polymorphous imagination" (Jonathan Lethem), Charyn once again has created one of the most inventive novels in recent American literature.
Praise For Big Red: A Novel Starring Rita Hayworth and Orson Welles…
Cinematic and bittersweet...[Charyn] subtly evokes F. Scott Fitzgerald's 'The Great Gatsby' in telling his saga of star-crossed charismatics through the eyes of an all-seeing peripheral figure, an outsider-insider named Rusty Redburn... His novel, with its multiple layers of fiction and fact, resurrects the vanished world it celebrates and explicates it in all its grand illusion.
— Tom Nolan - Wall Street Journal

Written with love and affection for its subject, Big Red is an entrancing work of historical fiction that serves as a glimpse into Rita Hayworth's life far beyond her stardom. Big Red serves as a long-form love letter from author Jerome Charyn to Hayworth (nicknamed Big Red by Columbia Pictures studio head Harry Cohn), through the eyes of our narrator, a fictional character named Rusty Redburn, a self-proclaimed 'actress who couldn't act, a dancer who couldn't dance, and a singer who couldn't sing....' Using Rusty as narrator serves as a successful framing device for the story, as her perspective affords readers a behind-the-scenes glance at two of the most beguiling figures of mid-20th century American cinema. Her descriptions are vivid, humorous, and perceptive... Charyn's love for film history shines through.

— David Vogel - Chicago Review of Books

Jerome Charyn... does a bang-up job of capturing Hayworth through the eyes of a second-rate gossip columnist: her rise to stardom, her tempestuous marriage to Welles, and her incredible performances in movies like Gilda and The Lady from Shanghai. If you can't decide between a book or a classic movie, Charyn's got just the ticket for you.

— Lisa Levy - CrimeReads

One of the supreme strengths of Big Red is that Jerome Charyn finds exactly the right voice for the novel in Rusty Redburn, a cinephile and double agent hired by Harry Cohn to spy on the couple even as she falls in love with them... Mr. Charyn does not merely present what a reader might already know about Welles and Hayworth; instead, what we know, and don't know, is angled through Rusty's exquisite sensibility.

— Carl Rollyson - New York Sun

[An] affecting and searing portrait of Silver Screen superstars.... Charyn offers rapid-fire dialogue and slapstick action ("So it's a bit of blackmail," Orson says at one point, "lunging" at an adversary though he "wasn't much of a gladiator with his big flat feet") along with affecting character development. It's a rewarding paean to some of cinema's greats.
— Publishers Weekly, starred review

Charyn strikes Tinseltown gold.... Rusty is, indeed, a 'pipperoo,' as Welles calls her, functioning as not just the novel's narrator but also its conscience... Big Red is manna to fans of Old Hollywood, with Rusty, as Charyn's mouthpiece, riffing eloquently on key films on Hayworth's and Welles's résumés.

— Nell Beram, Shelf Awareness, starred review
Liveright, 9781324091332, 304pp.
Publication Date: August 23, 2022
About the Author
"One of the most important writers in American literature" (Michael Chabon), Jerome Charyn is the award-winning author of more than fifty works, including The Secret Life of Emily Dickinson. A renowned scholar of twentieth-century Hollywood, he lives in Manhattan.