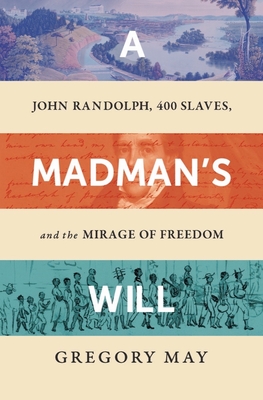 A Madman's Will
John Randolph, Four Hundred Slaves, and the Mirage of Freedom
Hardcover

* Individual store prices may vary.
Description
The untold saga of John Randolph's 383 slaves, freed in his much-contested will of 1821, finally comes to light.
Few legal cases in American history are as riveting as the controversy surrounding the will of Virginia Senator John Randolph (1773–1833), which—almost inexplicably—freed all 383 of his slaves in one of the largest and most publicized manumissions in American history. So famous is the case that Ta-Nehisi Coates has used it to condemn Randolph's cousin, Thomas Jefferson, for failing to free his own slaves. With this groundbreaking investigation, historian Gregory May now reveals a more surprising story, showing how madness and scandal shaped John Randolph's wildly shifting attitudes toward his slaves—and how endemic prejudice in the North ultimately deprived the freedmen of the land Randolph had promised them. Sweeping from the legal spectacle of the contested will through the freedmen's dramatic flight and horrific reception in Ohio, A Madman's Will is an extraordinary saga about the alluring promise of freedom and its tragic limitations.
Praise For A Madman's Will: John Randolph, Four Hundred Slaves, and the Mirage of Freedom…
Lawyer-turned-historian May (Jefferson's Treasure) offers a fascinating account of Virginia senator John Randolph's posthumous efforts to free nearly 400 enslaved people and provide for their resettlement . . . May lucidly untangles the legal proceedings and draws vivid character sketches of Randolph and others, while building an irrefutable case that freedom is only the first step to equality. This is history at its finest.

— Publishers Weekly, starred review
Liveright, 9781324092216, 416pp.
Publication Date: April 11, 2023
About the Author
Gregory May is the author of Jefferson's Treasure: How Albert Gallatin Saved the New Nation from Debt. He practiced law in Washington, DC, and New York for thirty years, and now lives in Virginia.