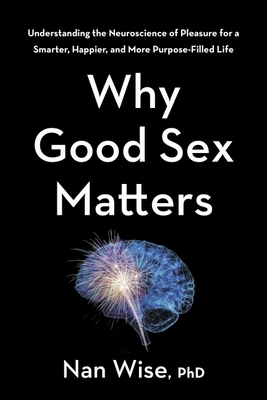 Why Good Sex Matters
Understanding the Neuroscience of Pleasure for a Smarter, Happier, and More Purpose-Filled Life
Hardcover

* Individual store prices may vary.
Other Editions of This Title:
MP3 CD (3/31/2020)
Description
A sex therapist and neuroscientist describes anhedonia, the inability to feel a satisfactory amount of pleasure—and provides the pathway back to fully enjoying sex, food, time with family and friends, and other pastimes, while also staving off depression, anxiety, and addiction.

Assaulted with opportunities for pleasure everywhere—from sex to food or exotic escapes—our culture is becoming more depressed and anxious. Research has shown that many people are having less sex, and that those who do have a lot enjoy it less. For more than thirty years, Nan Wise has worked as a therapist helping people gain a satisfying sex life. In recent years, her work has shifted to the study of anhedonia—the inability to experience pleasure from activities usually found enjoyable—and why more people than ever suffer from it. 
 
In Why Good Sex Matters, Wise not only reveals the fundamental problem in how we think about sex and pleasure but also how we arrived at this problematic relationship to begin with. This fascinating book helps us reclaim our innate capacity for joy, fun, exuberance, curiosity, and humor, while showing how reaching our sexual potential makes us smarter, happier, and more productive people. Ultimately, it reveals how a new understanding of sex can lead to a more expansive experience of pleasure in all aspects of our lives.
Praise For Why Good Sex Matters: Understanding the Neuroscience of Pleasure for a Smarter, Happier, and More Purpose-Filled Life…
"Lively, enriching, and eye-opening, Why Good Sex Matters will be the book all of your friends will be talking about." —Kayt Sukel, author of This Is Your Brain On Sex and The Art of Risk "Much more than about just sex, this is a book about Pleasure (with a capital P!)–where we seek it, when we crave it, how our brains process it–and, importantly, why we are in dire need of more of it. For anyone who is feeling burnt out, joyless, anxious, depressed–for anyone who is seeking yet somehow not feeling satisfied–this is essential reading to reclaim and revitalize yourself with the pleasure you need and deserve" –Ian Kerner, Ph.D., LMFT, author of She Comes First "Dr. Nan Wise brings a rare dual professional expertise in neuroscience research and clinical psychotherapy sexuality practice to this groundbreaking book. She explains how the "core emotions" in our brain exert profound influence on our sexuality and our emotional functioning–and provides profound yet easy-to-read practical guidance to seek and attain happiness in sex and in life." –Barry R. Komisaruk, Ph.D., co-author of The Science of Orgasm "A relatable, no-holds-barred look at what's wrong with our dating and sexual culture and why, at any stage of life, we don't have to settle. Pleasure comes in many forms, and Nan Wise explains how and why to go for it."—Ashton Applewhite, author of This Chair Rocks:A Manifesto Against Ageism "In a world where we have greater access to pleasurable experiences and connections than ever before, it's shocking how many of us are left feeling unsatisfied. Nan Wise, Ph.D., cuts through the noise to offer science-backed guidance for how we can finally discover our sexual potential."—Catherine Oxenberg, author of Captive "Nan Wise had me at 'healthy hedonism' but sealed the deal with all of her fascinating research. In this informative and enlightening book, Wise shows us how to kick life up a few notches."—Mara Altman, author of Gross Anatomy: Dispatches from the Front (and Back) and Thanks for Coming: One Young Woman's Quest for an Orgasm "Read this book if you want to get the most out of your sex life and experience greater pleasure and satisfaction in your life overall."—Beverly Whipple, Ph.D., co-author of The G Spot and The Science of Orgasm "Why Good Sex Matters helps us to get back in touch with the sensational side of life—and life is sensational when we focus on the sensations!" —Brad Blanton, PhD, author of Radical Honesty "Nan Wise helps readers understand how personal sex issues often reflect an overall negative emotional state and offers numerous ideas that can help them rebalance their emotional lives in ways that can revitalize their sensual pleasures." —Kenneth L. Davis, coauthor of The Emotional Foundations of Personality "An ambitious book, Why Good Sex Matters offers neuroscience that not only makes sense but can lead to practical life hacks and important healing." —Margaret Nichols, PhD, Psychologist and Certified Sex Therapist —
Harvest, 9781328451309, 272pp.
Publication Date: January 28, 2020
About the Author
Dr. Nan Wise is a cognitive neuroscientist, professor, licensed psychotherapist, certified sex therapist, board-certified clinical hypnotherapist, and certified relationship specialist with three decades of experience. After almost twenty years in clinical practice as a sex therapist, she became driven by an intense desire to understand how the brain operates to create moods and behaviors in relation to sex and other aspects of human experience. Returning to academia in 2009 to pursue a PhD in cognitive neuroscience at Rutgers-Newark, she is now Associate Research Professor at Rutgers, The State University of New Jersey-Newark. She lives in West Orange, New Jersey.