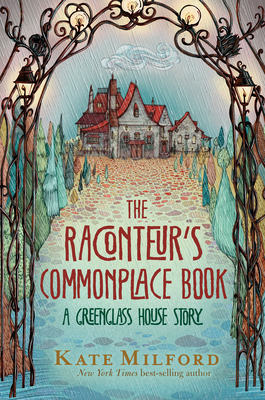 The Raconteur's Commonplace Book
A Greenglass House Story
Hardcover

* Individual store prices may vary.
Description
Nothing is what it seems and there's always more than one side to the story as a group of strangers trapped in an inn slowly reveal their secrets in this new standalone mystery set in the world of the best-selling Greenglass House, from a National Book Award nominee and Edgar Award–winning author.

The rain hasn't stopped for a week, and the twelve guests of the Blue Vein Tavern are trapped by flooded roads and the rising Skidwrack River. Among them are a ship's captain, tattooed twins, a musician, and a young girl traveling on her own. To pass the time, they begin to tell stories—each a different type of folklore—that eventually reveal more about their own secrets than they intended.

As the rain continues to pour down—an uncanny, unnatural amount of rain—the guests begin to realize that the entire city is in danger, and not just from the flood. But they have only their stories, and one another, to save them. Will it be enough?
 
Praise For The Raconteur's Commonplace Book: A Greenglass House Story…
★ "At once a deeply satisfying standalone and a smart addition to Milford's expansive world, this elegant feat of telescopic storytelling serves as both map and key, offering singular stories of consequence that slowly, artfully reveal an immersive mystery—one that will dazzle seasoned Milford fans and kindle new ones."—Publishers Weekly, STARRED review

★ "At times wryly humorous and at others marvelously unnerving and superbly menacing, this novel delights. Deliciously immersive and captivating."—Kirkus, STARRED review

"The wide-reaching world building of Milford's Nagspeake novels gets even more expansive.... The stories are purely enjoyable, playfully toying with folktale conventions, offering a compelling variety of genres, and allowing each teller's voice to clearly come through in their tale."—Booklist
Clarion Books, 9781328466907, 400pp.
Publication Date: February 23, 2021
About the Author
Kate Milford is the New York Times best-selling author of the Edgar Award–winning, National Book Award nominee Greenglass House, as well as Ghosts of Greenglass House, Bluecrowne, The Thief Knot, and many more. She lives with her family in Brooklyn, New York. www.greenglasshousebooks.com and www.katemilfordwritesbooks.com,
Twitter: @KateMilford