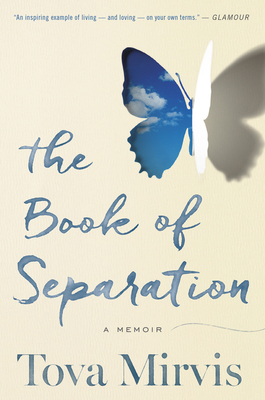 The Book Of Separation
A Memoir
Paperback

* Individual store prices may vary.
Other Editions of This Title:
Hardcover (9/19/2017)
MP3 CD (7/24/2018)
Description
The memoir of a woman who leaves her faith and her marriage and sets out to navigate the terrifying, liberating terrain of a newly mapless world

Born and raised in a tight-knit Orthodox Jewish family, Tova Mirvis committed herself to observing the rules and rituals prescribed by this way of life. After all, to observe was to be accepted and to be accepted was to be loved. She married a man from within the fold and quickly began a family.

But over the years, her doubts became noisier than her faith, and at age forty she could no longer breathe in what had become a suffocating existence. Even though it would mean the loss of her friends, her community, and possibly even her family, Tova decides to leave her husband and her faith. After years of trying to silence the voice inside her that said she did not agree, did not fit in, did not believe, she strikes out on her own to discover what she does believe and who she really is. This will mean forging a new way of life not just for herself, but for her children, who are struggling with what the divorce and her new status as "not Orthodox" mean for them.  

This is a memoir about what it means to decide to heed your inner compass at long last. To free the part of yourself that has been suppressed, even if it means walking away from the only life you've ever known. Honest and courageous, Tova takes us through her first year outside her marriage and community as she learns to silence her fears and seek adventure on her own path to happiness.
Praise For The Book Of Separation: A Memoir…
A New York Times Editors' Choice Featured on the New York Times Paperback Row One of Jewish Week's "Books To Read This Fall" "Tova Mirvis has already established herself as a first-rate novelist with The Ladies Auxiliary, The Outside World, and Visible City. With The Book of Separation: A Memoir, Mirvis shifts genres, reveals some of the autobiographical germs of her fiction, and compellingly chronicles the process of separating from Orthodoxy...The respect for intra-Jewish difference that Mirvis models for her children—and for readers—is a precious gift to the Jewish literary world...Beautiful and poignant." —Lilith Magazine "An intimate tale of departure….[Tova Mirvis] movingly conveys the heartache that accompanies the abandonment of one way of life in search of another." —New York Times Book Review, An Editors' Choice "In this poignant memoir, Mirvis chronicles her decision, at 40, to finally listen to the voice in her head telling her to leave her religion, her marriage, and her family. She explores what it means to truly be yourself, even if it means giving up everything you've ever known." —Real Simple, "The Best New Books to Read This Month" "We've all daydreamed about walking away from it all. Mirvis actually did, after years of soldiering through a good-enough life. This is the moving story of her life, post-divorce and post-Orthodox Judaism. She's an inspiring example of living—and loving—?on your own terms." —Glamour "Capable of both wry humor and darkly apt turns of phrase, Mirvis is a gifted writer reflecting on her identity: first through the prism of organized religion, then through a self-charted life." —Chicago Tribune "A beautifully written book…in which Mirvis applies her gifts as a novelist to reveal her own struggles. And it is a profound meditation on what it means to be true to oneself, and what costs doing so may exact." —The Jewish News of Northern California "Mirvis's experience of Orthodox Judaism is vivid and particular, but her questions—about love and belonging, community and isolation, striking out into new soul terrain without a map—are universal. Luminous, unsettling and fiercely brave, Mirvis's memoir insists on a simple but earth-shattering truth: 'there are other ways to be.'" —Shelf Awareness, Starred Review "The author's sensitive thematic treatment of belonging and individuality and her candor about the terror she experienced leaving the only community she had ever known makes for moving, inspiring reading. A thoughtful, courageous memoir of family, religion, and self-discovery."  —Kirkus Reviews "Mirvis intimately chronicles her divorce and her separation from modern Orthodox Judaism in this bold memoir...Hers is a story of grief and rebirth. She is compassionate and judicious in her portrayal of Orthodox Judaism, even as she describes its repressive attitudes toward women; she discusses the diverse Jewish lifestyles, from Hasidic to secular. Her personal journey makes for an introspective and fascinating story." —Publishers Weekly "As [Mirvis] begins her memoir, she documents what it feels l
Harper Perennial, 9781328477873, 336pp.
Publication Date: September 18, 2018
About the Author
TOVA MIRVIS is the author of three novels: Visible City, The Outside World, and The Ladies Auxiliary, a national bestseller. Her essays have appeared in various publications, including the New York Times, the Boston Globe Magazine, the Huffington Post, and Poets and Writers, and her fiction has been broadcast on NPR. She lives in Newton, Massachusetts.
1. In overcoming her fear of driving, how does Mirvis express overcoming other fears? What are her other fears?
2. What does being "good" mean to Mirvis? How has "leaving" made her question or redefine this term and her identity?
3. How does writing help Mirvis find her way?
4. Why did Mirvis initially strive to follow the rules for being an Orthodox woman, including her decision to wear a "fall"? What, do you think, was the moment, or series of moments, that led to her decision to stop following these rules?
5. How did Mirvis define home within the Orthodox community? How did that definition change once she left?
6. What are some of the ways that Mirvis redefined her role as a mother when she decided to leave the Orthodox community? How did this change her relationship with her children, if at all?
7. How did Mirvis's definition of freedom change as she continued her journey with the Orthodox community? As a partner and a mother? What were some of the moments that helped her redefine freedom?