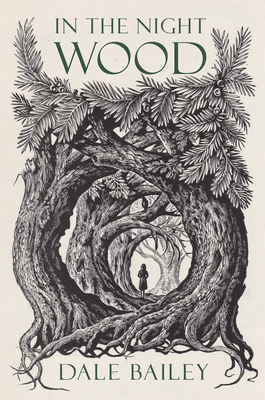 In The Night Wood
Hardcover

* Individual store prices may vary.
Other Editions of This Title:
Digital Audiobook (9/2/2019)
MP3 CD (9/3/2019)
Description
In this contemporary fantasy, the grieving biographer of a Victorian fantasist finds himself slipping inexorably into the supernatural world that consumed his subject
Failed father, failed husband, and failed scholar, Charles Hayden hopes to put his life back together with a new project: a biography of Caedmon Hollow, the long-dead author of a legendary Victorian children's book, In the Night Wood, and forebear of his wife, Erin. Deep in mourning from the loss of their young daughter, they pack up their American lives, Erin gives up her legal practice, and the couple settles in Hollow's remote Yorkshire mansion.
In the neighboring village, Charles meets a woman he might have loved, a child who could have been his own daughter, and the ghost of a self he hoped to bury. Erin, paralyzed by her grief, immerses herself in pills and painting images of a horned terror in the woods.
In the primeval forest surrounding Caedmon Hollow's ancestral home, an ancient power is stirring, a long-forgotten king who haunts the Haydens' dreams. And every morning the fringe of darkling trees presses closer.
Soon enough, Charles and Erin will venture into the night wood.
Soon enough, they'll learn that the darkness under the trees is but a shadow of the darkness that waits inside us all.
Praise For In The Night Wood…
"Bailey's novel has every aspect of gothic horror: the drafty manor, the shady servants, the tortured protagonists. The writing is dense with allusions and details, the narrative twisting and turning in the same way the Night Wood distorts the senses of anyone who wanders into it […] A modern gothic horror done right."—Kirkus "Bailey infuses his eighth novel with a sinister foreboding that excellently villainizes its bucolic English setting. […] With the discovery of a cipher and the help of a local historian who has a daughter uncannily similar to his own, Charles realizes the horrors of "In the Night Wood" are closer to fact than fiction. Bailey's eerie prose centers readers firmly and successfully in his seductive and frightening night wood." —Publishers Weekly "Every story is a ghost story, Bailey tells us. But not every ghost story is as haunting as this one. Nor as luminously written, literate, absorbing, transporting, and all-around excellent. I couldn't put it down." —Karen Joy Fowler, bestselling author of We are All Completely Beside Ourselves  "Dale Bailey has written a literary puzzle box that deftly mixes the scary, nasty folktales of the 19th century and Daphne du Maurier's classic Don't Look Now. In the Night Wood is an affecting, weighty, and haunting book about the shackles of grief." —Paul Tremblay, author of A Head Full of Ghosts and The Cabin at the End of the World "In the Night Wood taps into the oldest, darkest roots of the fairy tale tradition, presenting the story of a family in crisis while steered by the pagan energies of a wilder age. It is beautiful, heartbreaking, and inspiring. Once again, Dale Bailey proves he's among the best writers we have." —Nathan Ballingrud, Shirley Jackson Award-winning author of North American Lake Monsters "In the Night Wood is a wonder: literary, intriguingly supernatural, and all too human. A must read for anyone who as a child wanted to find a magic wardrobe to explore or a rabbit hole to fall down only to realize as an adult that those whimsical childhood adventures have a darker side." —Molly Tanzer, author of Creatures of Will and Temper and Vermilion "Elegantly written, In the Night Wood paints a moody portrait of a marriage threatened by betrayal and loss over the backdrop of a strange wood, mysteriously vanishing children, the legend of a horned king, and a children's story that might be more than just a story. Bailey builds his world with great care, slowly and carefully drawing both you and the characters in, revealing some pieces of the puzzle only gradually. By the time you realize where the story is going, he's already hooked you:  you couldn't escape even if you wanted to." —Brian Evenson, author of A Collapse of Horses "In the Night Wood begins with a tragic loss and quickly develops into a mystery involving an estate, the history of the forest surrounding it, and a strange book written by the estate's former owner. The mystery is compelling but the heart of Dale Bailey's latest novel is the damaged relationship between grieving parents. Conquering their guilt and salvaging their love for one another depends on their ability to untangle the mystery. This is a heady combination of natural and supernatural influences, clues scattered by an enigmatic ancestor, and local legends both feeding and deriving from a work of fiction. Together these elements create resonance and urgency i —
Harper, 9781328494436, 224pp.
Publication Date: October 9, 2018
About the Author
DALE BAILEY is the critically acclaimed author of seven books, including The End of the End of Everything and The Subterranean Season. His story "Death and Suffrage" was adapted for Showtime's Masters of Horror television series. His short fiction has won the Shirley Jackson Award and the International Horror Guild Award, has been nominated for the Nebula and Bram Stoker awards, and has been reprinted frequently in best-of-the-year anthologies, including The Best American Science Fiction and Fantasy. He lives in North Carolina with his family.
or
Not Currently Available for Direct Purchase