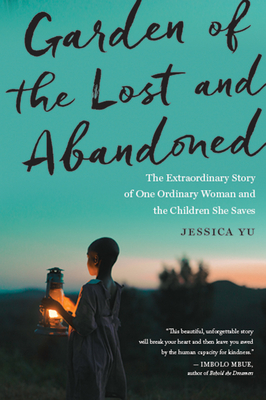 Garden of the Lost and Abandoned (Paperback)
The Extraordinary Story of One Ordinary Woman and the Children She Saves
Mariner Books, 9781328500182, 400pp.
Publication Date: November 6, 2018
Other Editions of This Title:
Hardcover (11/7/2017)
* Individual store prices may vary.
Description
The problem by most lights is overwhelming: at least 5,000 children live on the streets of Uganda's capital city of Kampala. Some forget the names of their villages. The youngest may not know the names of their parents. But Gladys Kalibbala—part journalist, part detective, part Good Samaritan—does not hesitate to dive into difficult or even dangerous situations to aid a child. Author of a newspaper column called "Lost and Abandoned," she is a resource that police and others turn to when they stumble across a stranded kid with a hidden history.
     Jessica Yu delivers an acutely observed story of this hard-nosed and warm-hearted woman, the children she helps, and her precarious dream of providing a home and livelihood for her vulnerable charges. Garden of the Lost and Abandoned chronicles one woman's altruism, both ordinary and extraordinary, in a way that is impossible to forget, and impossible not to take to heart.

"This beautiful, unforgettable story will break your heart and then leave you awed by the human capacity for kindness." — Imbolo Mbue, author of Behold the Dreamers
 
"[Yu] reminds us that it's possible to make the world a better place one child at a time." — Paul Tough, author of How Children Succeed
 
"This heartfelt book should be on a list of the best uplifting true stories." — Shelf Awareness
 
"Jessica Yu's compelling writing and her filmmaker's eye paint a vivid picture of urban Kampala and allow us to walk in Gladys's shoes . . . Garden of the Lost and Abandoned renews my faith in humanity." — Abraham Verghese, author of Cutting for Stone
About the Author
JESSICA YU is a prolific filmmaker known for both her scripted and nonfiction work, which includes the Academy Award–winning short Breathing Lessons. Her documentaries have focused on art, social justice, and the environment. She lives in Southern California.
Praise For Garden of the Lost and Abandoned: The Extraordinary Story of One Ordinary Woman and the Children She Saves…
**Gold** Winner of the Nautilus Book Award 

"This heartfelt book should be on a list of the best uplifting true stories; readers looking for inspiring narrative nonfiction or insight into life in other countries and cultures will thoroughly enjoy."—Shelf Awareness

" 'Compassion fatigue.' It's a term that gets used when (mostly) Westerners declare that they just can't spare one more ounce of compassion for those who are suffering. Given the self-inflicted wound that many American voters thrust on this nation, and the consequent series of nearly daily bad news reports, it wouldn't be surprising to hear that compassion fatigue is spreading…So, for those who need a reminder that one person can make a difference, let me introduce you to Gladys Kalibbala, the subject of Jessica Yu's new book, Garden of the Lost and Abandoned…Garden of the Lost and Abandoned is a joyful book… [and] Gladys Kalibbala is a force of righteousness, often supporting children out of her own meager pocket…Gladys Kalibbala is proof that there are still individuals who are making immeasurable differences in a broken world."—Signature Reads

"Gladys is a larger than life personality, and Yu brings all her best sensibilities as a filmmaker and documentarian to bring every corner of this woman's world to light. You'll laugh, you'll cry, you'll get angry, but you'll never lose hope while reading this book."—Writer's Bone

"[Yu] makes her literary debut with the stunning account of Gladys Kalibbala, who has devoted herself to rescuing lost children in Uganda…The author delivers a moving collection of cases that have confronted Kalibbala…all of [which] have an immediacy because Yu has included generous amounts of dialogue and local color, all indicating the author's observational skills and attention to details…Kalibbala emerges as a magnetic personality with a huge heart and boundless spirit…An eloquent affirmation of the vast capacity of the human heart." –Kirkus Reviews  

"Yu focuses on the personal narratives of Kalibbala and the children, enriching her account with vivid details and extensive dialogue. This tight focus leads to a compelling, page-turning read…Yu's evenhanded narrative reveals the balance between bighearted Kalibbala's struggles with a sometimes-uncaring system and the support the children receive from police and her own triumphs. This is a powerful and inspiring tale of how one woman can make a tremendous difference in her community."—Booklist

"This compassionate portrait of Gladys Kalibbala…[is] heart-wrenching…Kalibbala emerges as a generous soul and fierce advocate…[Yu's] deeply researched personal journalism…[and] intense close-up on her charismatic heroine results in an inspirational narrative." –Publishers Weekly  

"This beautiful, unforgettable story will break your heart and then leave you awed by the human capacity for kindness."—Imbolo Mbue, author of Behold the Dreamers (Oprah's Book Club) 
 
"Jessica Yu's compelling writing and her filmmaker's eye paint a vivid picture of urban Kampala and allow us to walk in Gladys's shoes, to celebrate her every minor victory and to mourn with her when she loses. Garden of the Lost and Abandoned renews my faith in humanity."—Abraham Verghese, author of Cutting for Stone 
 
"Why should we care about the children of strangers? That's the question that Gladys Kalibbala answers so movingly in Jessica Yu's warm and uplifting portrait. As Yu chronicles Kalibbala's mission to save the abandoned children of Kampala, she reminds us that it's possible to make the world a better place one child at a time."—Paul Tough, author of How Children Succeed
 
"Can sheer goodness matter, let alone be thrilling to contemplate? Well, in Yu's brimming account of her protagonist Gladys's glorious example, we get to watch as a garden of the lost and the abandoned opens out inexorably (and yes, thrillingly) into a home for the found and the redeemed." —Lawrence Weschler, author of Mr. Wilson's Cabinet of Wonder