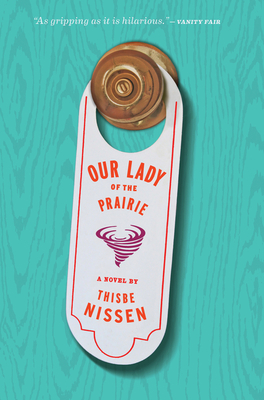 Our Lady of the Prairie (Paperback)
Mariner Books, 9781328507983, 384pp.
Publication Date: January 22, 2019
* Individual store prices may vary.
Description
"As gripping as it is hilarious." — Vanity Fair
 
"I devoured this novel . . . It just made my whole being vibrate and hum with the impossible, inevitable business of loving other people." — Leslie Jamison, New York Times best-selling author of The Empathy Exams and The Recovering
 
For Phillipa Maakestad—theater professor and mother to a troubled, volatile daughter—life is finally, miraculously calm. What better moment, then, to fall headlong into a passionate affair, fly off to France with her new lover, and effectively take a match to her life on the Iowa prairie?
            As she steps back to survey the damage and determine her way forward, Phillipa must contend with a wedding-day tornado, a menace of a mother-in-law who may or may not have been a Nazi collaborator, and the tragicomic revenge fantasies of her otherwise docile husband. Which is to say: the damage is not easily contained, and the path ahead is not clear.
            Thisbe Nissen offers up a fever-pitched, bitingly funny novel about a woman's quest to find her place in her own story. Our Lady of the Prairie is a bravura performance—a twister sweeping through the heart of the land and the land of the heart.
 
"Wonderfully witty." — Chicago Review of Books

"Brazen, sexy, and whip-smart." — Refinery29
About the Author
THISBE NISSEN is the author of a story collection, Out of the Girls' Room and into the Night, and two novels, The Good People of New York and Osprey Island. Her fiction has been published in the Iowa Review and the American Scholar, among others, and her nonfiction has appeared in Vogue, Glamour, and elsewhere. She teaches at Western Michigan University and lives in Battle Creek, Michigan, with her husband, writer Jay Baron Nicorvo, and their son.
 
Praise For Our Lady of the Prairie…
"I've been a Thisbe Nissen fan since page one of The Good People of New York. And now, loyalty rewarded! Our Lady of the Prairie delivers this wonderful author's characteristic wit, layered with delicious dysfunction, poignancy, and heart."
—Elinor Lipman, author of On Turpentine Lane
 
"Our Lady of the Prairie is a tumultuous romp, both cautionary and liberating. A mystery winds its way through these pages, as Thisbe Nissen explores marriage, lust, midlife crises and motherhood, crafting complex portraits not only of her characters but also of the land they inhabit; and, one thing is clear, this novel was written in praise of the prairie itself."
—Julianna Baggott, author of Harriet Wolf's Seventh Book of Wonders