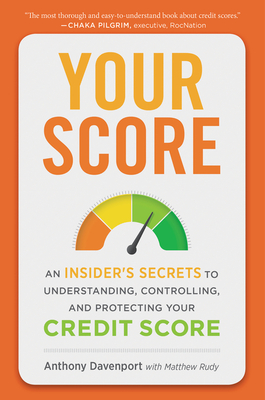 Your Score (Paperback)
An Insider's Secrets to Understanding, Controlling, and Protecting Your Credit Score
Mariner Books, 9781328507990, 224pp.
Publication Date: January 1, 2019
Other Editions of This Title:
Compact Disc (6/12/2018)
Hardcover (1/9/2018)
MP3 CD (6/12/2018)
* Individual store prices may vary.
Description
"The most thorough and easy-to-understand book about credit scores."—Chaka Pilgrim, executive, RocNation
 
"A clearheaded, must-read guide for anyone looking to decode the most influential number of them all."—Publishers Weekly
 
A healthy credit score is essential for a healthy financial life. But the precise mechanisms used to determine our credit scores are shrouded in mystery. Consumers aren't usually told how their score is being used by all kinds of companies and banks to dictate financial terms that will strongly affect their daily lives.
            So when consumers interact with the world of credit, they do so from a position of weakness. With this revelatory guide, Anthony Davenport aims to change that. Finally, here is a consumer-friendly road map for understanding and navigating the secretive world of consumer credit. Davenport reveals where your credit score comes from, how to improve, maintain, or rescue it, and how to avoid hidden credit pitfalls.
            Your Score is an accessible manual designed to help you take control of your credit score and better navigate all the important financial decisions in your life.
 
"This is a masterful work . . . The time it takes to read this book will produce extraordinary returns."—Mark Gerson, chairman, Gerson Lehrman Group
 
About the Author
ANTHONY DAVENPORT is the founder and CEO of Regal Financial, a credit management firm that has become the go-to firm for many of the country's professional athletes, celebrities, and top financial professionals. With credit scoring certification from FICO®, Davenport has been cited in numerous publications, including Forbes, Yahoo Finance, and Wise Piggy. He lives in Brooklyn.
Praise For Your Score: An Insider's Secrets to Understanding, Controlling, and Protecting Your Credit Score…
"Davenport offers a handy, one-stop guide to understanding—and fixing—your credit score. Outraged at practices he found predatory and nontransparent, Davenport left the industry to instead provide credit-management services. He brings both sides of his expertise to answering common credit-related questions. Credit is undeniably big business, and in Davenport's eyes, it's also a creepy one, wherein credit bureaus and consumers have an inherently adversarial and imbalanced relationship; credit bureaus, he posits, want customers to think their scores are complicated, but anyone can learn how they work. His offering is a step-by-step manual to understanding your "real" financial score, not the estimate provided by free annual reports.He guides readers through identifying and fixing common mistakes, making sense of the report itself, and building a strong credit profile…..Davenport has written a clearheaded, must-read guide for anyone looking to decode the most influential number of them all." —Publishers Weekly

"Anthony Davenport has put together the most thorough and easy-to-understand book about credit scores. If you are like most people and are baffled by what a credit score is and how it can affect your life, this is the book for you."—Chaka Pilgrim, Executive, RocNation
 
"This is a masterful work.  In making the broad and complex world of personal finance so accessible and interesting, Anthony Davenport has produced a book that is remarkably helpful to all who are affected by the subject (which is everyone).  The time it takes to read this book will produce extraordinary returns, both in the moment and over a lifetime."—Mark Gerson, Chairman of Gerson Lehrman Group
 
"YOUR SCORE does a phenomenal job of pulling back the curtain and giving you a first-hand peek inside the hidden, often frustrating, world of credit scoring. Even better: Anthony Davenport tells you exactly how to navigate this complex system so you get the high credit score you want." —Lynnette Khalfani-Cox, author of Perfect Credit and the New York Times bestseller Zero Debt: The Ultimate Guide to Financial Freedom

"Anthony Davenport not only understands credit, but truly believes everyone should be empowered to understand it for themselves. You won't find this level of honest information anywhere else." —Tiki Barber, cohost of Tiki & Tierney and former NFL running back