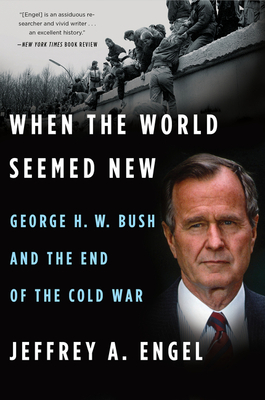 When the World Seemed New (Paperback)
George H. W. Bush and the End of the Cold War
Mariner Books, 9781328511652, 624pp.
Publication Date: November 6, 2018
Other Editions of This Title:
MP3 CD (11/21/2017)
Compact Disc (11/21/2017)
Hardcover (11/7/2017)
Pre-Recorded Audio Player (2/21/2018)
* Individual store prices may vary.
Description
The collapse of the Soviet Union was the greatest shock to international affairs since World War II. In that perilous moment, Saddam Hussein invaded Kuwait and regimes throughout Eastern Europe and Asia teetered between democratic change and new authoritarian rule. President Bush faced a world in turmoil that might easily have tipped into an epic crisis.
            As presidential historian Jeffrey Engel reveals in this page-turning history, Bush rose to the occasion brilliantly. Using handwritten letters and direct conversations—some revealed here for the first time—with heads of state throughout Asia and Europe, Bush knew when to push, when to cajole, and when to be patient. Based on previously classified documents, and interviews with all the principals, When the World Seemed New is a riveting, fly-on-the-wall account of a president with his calm hand on the tiller, guiding the nation from a moment of great peril to the pinnacle of global power.

"An absorbing book." — Wall Street Journal

"Engel's excellent history forms a standing—if unspoken—rebuke to the retrograde nationalism espoused by Donald J. Trump." — New York Times Book Review
 
About the Author
JEFFREY A. ENGEL is the founding director of the Center for Presidential History at Southern Methodist University. Educated at Cornell, Oxford, the University of Wisconsin-Madison, and Yale University. He has authored or edited ten books on American foreign policy, including The Fall of the Berlin Wall: The Revolutionary Legacy of 1989 and The China Diary of George H. W. Bush: The Making of a Global President. Born above the Mason-Dixon line, he now lives and teaches in Dallas, Texas.
Praise For When the World Seemed New: George H. W. Bush and the End of the Cold War…
Shortlisted for the Council on Foreign Relations' Arthur Ross Book Award
 
"At one of the great turning points in modern history, America and the Free World (the phrase meant more then) were fortunate to be led by a president, George H.W. Bush, who is only now receiving his due. In this epic book, Jeffrey A. Engel explains how Bush presided over the momentous conclusion of the Cold War. With searching scholarship, a gift for the telling human detail, and an appreciation of how the personal and the political interact in often-subtle ways, Engel has written a landmark account of a president, a nation, and a global order at a crossroads. This is a terrific work of history." —Jon Meacham, author of Destiny and Power: The American Odyssey of George Herbert Walker Bush
 
"Usually, when empires fall, war and chaos follow. Amazingly, when the Soviet Union--with its 20,000 or so nuclear weapons--collapsed, the world became (for a time, anyway) more peaceful and prosperous, thanks in no small part to the wisdom, vision, and restraint of President George H.W. Bush. Jeffrey Engel has written a rich, marvelous narrative history stocked with lessons for our own dangerous times." —Evan Thomas, author of Ike's Bluff and Being Nixon
 
"The Cold War's end offered peril and promise, and Jeffrey A. Engel's revealing and deeply researched new history demonstrates that George H.W. Bush navigated it brilliantly.  Instability loomed.  Yet Bush's personal diplomacy ensured Germany's successful unification, the Soviet Union's peaceful collapse, victory in the Persian Gulf, and preservation of Sino-American relations after the horror of Tiananmen Square.  His reputation as a statesman has rightly grown over time.  Peering into the halls of power on both sides of the Iron Curtain and in the Oval Office in particular, Engel's gripping account show us why." —Stephen Hadley, former National Security Advisor

"Engel's excellent history forms a standing – if unspoken – rebuke to the retrograde nationalism espoused by Donald J. Trump." –New York Times Book Review 
 
"When the World Seemed New is a fine, often stirring account of these times…an absorbing book." –Wall Street Journal