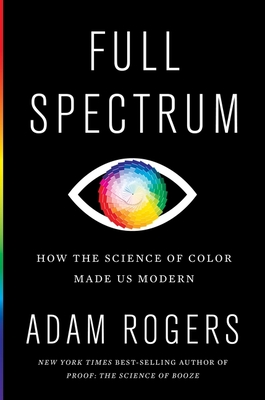 Full Spectrum
How the Science of Color Made Us Modern
Hardcover

* Individual store prices may vary.
Other Editions of This Title:
Digital Audiobook (5/17/2021)
Paperback (7/12/2022)
MP3 CD (5/18/2021)
Description
"Informative and entertaining...Rogers is a seasoned raconteur, unreeling an eons-spanning tale with skill." —Wall Street Journal

A lively account of our age-old quest for brighter colors, which changed the way we see the world, from the best-selling author of Proof: The Science of Booze

From kelly green to millennial pink, our world is graced with a richness of colors. But our human-made colors haven't always matched nature's kaleidoscopic array. To reach those brightest heights required millennia of remarkable innovation and a fascinating exchange of ideas between science and craft that's allowed for the most luminous manifestations of our built and adorned world.
 
In Full Spectrum, Rogers takes us on that globe-trotting journey, tracing an arc from the earliest humans to our digitized, synthesized present and future. We meet our ancestors mashing charcoal in caves, Silk Road merchants competing for the best ceramics, and textile artists cracking the centuries-old mystery of how colors mix, before shooting to the modern era for high-stakes corporate espionage and the digital revolution that's rewriting the rules of color forever. 
 
In prose as vibrant as its subject, Rogers opens the door to Oz, sharing the liveliest events of an expansive human quest—to make a brighter, more beautiful world—and along the way, proving why he's "one of the best science writers around."*
*National Geographic
Praise For Full Spectrum: How the Science of Color Made Us Modern…
Praise for FULL SPECTRUM and Adam Rogers  "Informative and entertaining...Rogers is a seasoned raconteur, unreeling an eons-spanning tale with skill, mixing in didactic material, interviews with experts and whimsy...Whether you're feeling blue, in the pink, or green with envy, Mr. Rogers sheds light on the meaning of color in our lives." — Wall Street Journal
"This book is the best kind of deep dive into its subject, and Adam Rogers is my favorite kind of science writer. Reading this book feels like having a long, fascinating and delicious meal with the most interesting person you know."  — Adam Savage, executive producer and co-host of Mythbusters, science communicator, and maker
"I love it when someone wakes me up to see what I was sleepwalking through. Adam Roger does that in this book. He showed me that the colors we see everywhere today are technologies we invented! Invented colors! Head explodes!"  — Kevin Kelly, New York Times-bestselling author of The Inevitable
 "This is a wonderfully human book that takes the reader on a kaleidoscopic tour of the world of color science. It is one of those books that makes you see everything afresh—you'll start identifying pigments everywhere, and diving back into the book to discover the intellectual quest behind them."  — Mark Miodownik, New York Times-bestselling author of Stuff Matters and Liquid Rules
"Adam Rogers' book, Full Spectrum, is everything you'd want from a book about color—shining with the full gem-stone range of blues, golds, greens and carnelian reds that tint the world around us. But woven through it, like the threads of a tapestry is so much more: history, science, the rainbow spectrum of human culture in its many hues. Exceptional books about science are rare. This is one of them."  — Deborah Blum, Pulitzer Prize-winning author of The Poison Squad and The Poisoner's Handbook
"There's a word for the color you see when you turn off the lights, it's called "eigengrau", or brain grey. Reading this book is like cranking the dimmer switch up, chapter by chapter, from eigengrau to Full Spectrum. Illuminating, funny and utterly fascinating, Adam Rogers draws on history, chemistry, biology and geology to reveal that we've engineered a far more colorful world than the one our ancestors inhabited. Prepare to be dazzled; after you read this book, you'll never see color the same way again."  — Ziya Tong, science broadcaster & author of The Reality Bubble
"One of the best science writers around."  — National Geographic
"Breezy, accessible...The author's passion for his subject becomes quickly apparent as he offers a vivid tour of the complexities behind the everyday experience of seeing the colors that give 'our universe shape.' With its vast range of perspectives, there's something in this investigation for everyone."   — Publishers Weekly
"Sharp, often jocular...He brings a tinder-dry humor and evident enthusiasm for the subject. From opsins to Technicolor movies, Rogers covers the colorscape with brio, dash, and crystal clearness."  — Kirkus Reviews (starred review)
Mariner Books, 9781328518903, 336pp.
Publication Date: May 18, 2021
About the Author
ADAM ROGERS is the New York Times best-selling author of Proof: The Science of Booze, a finalist for the PEN/E. O. Wilson Literary Science Writing Award and winner of the IACP Award for Best Wine, Beer, or Spirits Book and the Gourmand Award for Best Spirits Book in the United States. He is a deputy editor at Wired, where his feature story "The Angels' Share" won the 2011 AAAS Kavli Science Journalism Award. Before coming to Wired, he was a Knight Science Journalism Fellow at MIT and a writer covering science and technology for Newsweek. He lives in Oakland, California.