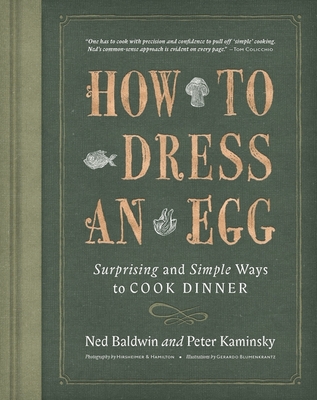 How to Dress an Egg (Hardcover)
Surprising and Simple Ways to Cook Dinner
Rux Martin/Houghton Mifflin Harcourt, 9781328521835, 272pp.
Publication Date: April 7, 2020
* Individual store prices may vary.
Description
Ned Baldwin, the former chef of Prune, now chef-owner of New York City's Houseman restaurant, and the noted food writer Peter Kaminsky share simple, maverick dishes and techniques that you can transform into a wealth of new recipes

Learn to cook one thing exceptionally well and you open the door to a multitude of possibilities, with no need for special equipment or fussy techniques. That's the premise of this book.

Ned Baldwin, a home cook who taught himself to be an excellent chef, sees no reason why anyone else can't do the same. By showcasing one ingredient per method, Baldwin introduces all the skills a cook will ever need to prepare endless pleasurable meals. Get a big, beefy hit from a hanger steak by cooking it in the oven; master salad-making with leafy greens; grill fillets of sea bass for crispy skin and moist flesh; roast an explosively juicy chicken (the secret is to cook it on the floor of the oven); bake leeks to soft perfection; and more.

Each dish is elaborated on in different ways to expand the technique into unlikely, inventive recipes that are jumping-off points for endless creativity. The 150 recipes are illustrated by the rustically beautiful photos of Hirsheimer & Hamilton.
About the Author
NED BALDWIN earned an MA in sculpture from Yale and pursued a career in the visual arts and building, but the art and science of cooking fascinated him. He apprenticed with Alain Ducasse and Jean-Georges Vongerichten, and also worked with Tom Colicchio at Craft, before becoming Prune's chef de cuisine for seven years. He is the owner of Houseman (the name means "house man's food") in New York City, where he lives. He is a fisherman, hiker, cycler, traveler, and an eater.