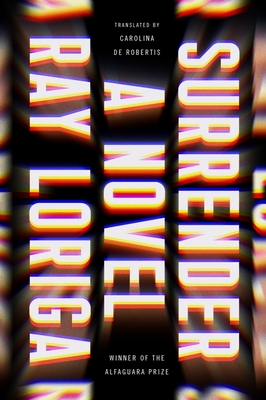 Surrender (Paperback)
Mariner Books, 9781328528520, 224pp.
Publication Date: February 25, 2020
Other Editions of This Title:
CD-Audio (2/25/2020)
MP3 CD (2/25/2020)
* Individual store prices may vary.
Description
"[A] riveting, and original, achievement."—WIRED

From award-winning Spanish author Ray Loriga comes a dystopian novel about authority, manipulation, and the disappearance of privacy that "calls to mind The Handmaid's Tale by Margaret Atwood [and] Blindness by José Saramago" (Alfaguara Prize Winner Citation).

Ten long years have passed since war first broke out, and one couple still does not know the whereabouts of their children, or what their country is even fighting for. They follow orders and their lives go by simply, routinely, until—one day—a mute boy walks onto their property. When the authorities announce that the area needs to be evacuated and that everyone must relocate to "the transparent city," the three leave together.

At first, the city proves to be a paradise: a stunning glass dome of endless highways, buildings, trains, and markets. Everything its inhabitants need is provided to them—food, protection, shelter—and the family quickly, unquestioningly, settles into their new life. But, soon, a sinister underlay begins to emerge. Neither secrets nor walls are permitted here, and strict order, authoritarian calm, and transparency must always reign supreme.

In a society in which everything private is public, the most chilling portent of our future emerges. Surrender is an urgent novel about dignity and rebellion and the lengths we go to preserve love, hope, and humanity.

"Loriga envisions in this gripping tale an unsettling dystopia in which all secrets are forbidden...This memorable page-turner will appeal to fans of Brave New World."—Publishers Weekly 
About the Author
RAY LORIGA is an author, screenwriter, and film director. Surrender, which won the prestigious Alfaguara Prize in Spain in 2017, is his third novel to be published in the United States. His previous, Tokyo Doesn't Love Us Anymore, received rave reviews in the New York Times, Washington Post, and elsewhere. Loriga has been translated into fourteen languages. He lives in Madrid.
CAROLINA DE ROBERTIS
is the internationally bestselling author of
The Gods of Tango, Perla,
and
The Invisible Mountain.
She was raised in England, Switzerland, and California by Uruguayan parents. Her debut novel,
The Invisible Mountain,
was an international hit that was translated into fourteen languages; it was an
O, The Oprah Magazine
"2009 Terrific Read," a
San Francisco Chronicle
"Best Book of the Year," and the recipient of Italy's Rhegium Julii Debut Prize. She is the recipient of a 2012 fellowship from the National Endowment for the Arts. Her fiction and literary translations have appeared in
Granta, Zoetrope: All-Story
, and the
Virginia Quarterly Review
, among other publications. She lives in Oakland, California and is currently working on a new novel. You can learn more at
www.carolinaderobertis.com
Praise For Surrender…
WINNER OF THE ALFAGUARA PRIZE (SPAIN), 2017

"Ray Loriga is a fascinating cross between Marguerite Duras and Jim Thompson."
—Pedro Almodóvar

"[A] riveting, and original, achievement."
—WIRED, "13 Must-Read Books for Spring"

"Loriga envisions in this gripping tale an unsettling dystopia in which all secrets are forbidden... [His] chilling portent of the future will undoubtedly resonate with readers concerned about the erosion of privacy. This memorable page-turner will appeal to fans of Brave New World."
—Publishers Weekly 

"[Surrender is] a Kafkaesque and Orwellian story about authority and collective manipulation, a parable on our societies exposed to the gaze and judgment of all. Through the use of a modest and thoughtful voice, with unexpected bursts of humor, the author constructs a luminous fable about exile, loss, paternity and attachment."
—Alfaguara Prize Winner Citation 

"[Surrender's] climax packs abundant weight…this novel has plenty of power."
—Kirkus Reviews

"[A] contemplative dystopian story...With an allegorical tone, Spanish writer Loriga presents a spare novel that yields harsh realizations and a deeply felt perception of humanity."
—Booklist

"Loriga can be considered the originator of writing that moves away from Spanish realism, to mental monologue in a desolate landscape, as if taken from a Hopper painting, with protagonists whose only social nucleus, generally broken, is that of refined writing, of short paragraphs, that does not describe but rather goes, silently, like the tires of a car on a highway."
—La Vanguardia