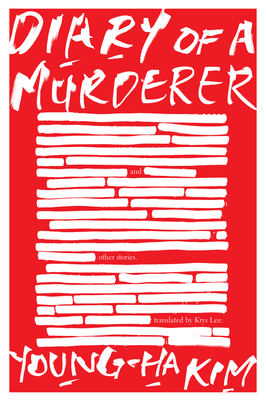 Diary of a Murderer (Paperback)
And Other Stories
Mariner Books, 9781328545428, 208pp.
Publication Date: April 16, 2019
Other Editions of This Title:
Compact Disc (4/16/2019)
* Individual store prices may vary.
Description
"Filled with the kind of sublime, galvanizing stories that strike like a lightning bolt, searing your nerves . . . It's easy enough to see why Kim . . . is acclaimed as the best writer of his generation; pick up this book and find out for yourself." — Nylon
 
It's been twenty-five years since I last murdered someone, or has it been twenty-six?
 
Diary of a Murderer captivates and provokes in equal measure, exploring what it means to be on the edge—between life and death, good and evil. In the titular novella, a former serial killer suffering from memory loss sets his sights on one final target: his daughter's boyfriend, who he suspects is also a serial killer. In other stories we witness an affair between two childhood friends that questions the limits of loyalty and love; a family's disintegration after a baby son is kidnapped and recovered years later; and a wild, erotic ride about pursuing creativity at the expense of everything else.
            From "one of South Korea's best and most worldly writers" (NPR), Diary of a Murderer is chilling and high-powered all the way through.
 
"Kim is expert at finding the humanity inside the other, the comedy inside the tragedy, and the twisted within the seemingly normal." — CrimeReads
About the Author
YOUNG-HA KIM is the author of seven novels—four published in the United States, including the acclaimed I Have the Right to Destroy Myself and the award-winning Black Flower—and five short-story collections. He has won every major Korean literature award, and his works have been translated into more than a dozen languages. He lives in Seoul, South Korea. 
KRYS LEE is the author of the short story collection Drifting House and the forthcoming novel How I Became a North Korean. She is a recipient of the Rome Prize and the Story Prize Spotlight Award, the Honor Title in Adult Fiction Literature from the Asian/Pacific American Libraries Association, and a finalist for the BBC International Story Prize. Her fiction, journalism, and literary translations have appeared in Granta, the Kenyon Review, Narrative, the San Francisco Chronicle, and the Guardian, among others. She teaches creative writing and literature at Yonsei University in South Korea.
Praise For Diary of a Murderer: And Other Stories…
"Reminds me a little of On Earth We're Briefly Gorgeous in that it reads like poetry at times, and it takes you through a heartbreaking dream. There's a lot of heat and emotion in this book."
—Nicole Richie, Vogue, "13 Books Nicole Richie is Reading While Isolating"

"This is celebrated Korean writer Young-ha Kim's first story collection to be translated into English, and it is filled with the kind of sublime, galvanizing stories that strike like a lightning bolt, searing your nerves. The titular novella follows a reformed serial killer who has given himself one more target—a man who is set to murder his daughter. The stakes of the other stories aren't any lower and involve kidnappings and affairs, trauma and transcendence. It's easy enough to see why Kim has won every Korean literature award and is acclaimed as the best writer of his generation; pick up this book and find out for yourself."
—NYLON, "50 Books You'll Want to Read in 2019"

"Kim is expert at finding the humanity inside the other, the comedy inside the tragedy, and the twisted within the seemingly normal. In his short story collection Diary of A Murder, the titular novella guides us through the deteriorating mind of a serial killer as he tries to save his daughter from becoming victim to another killer in town before he succumbs to Alzheimer's, while subsequent short stories showcasing an O. Henry-level irony mixed with an Italo Calvino style of humanism."
—CrimeReads, "The Most Anticipated Crime Books of 2019"

"The premise of a skilled, aging murderer unable to trust his own memories is a quirky spin on the moral quagmires that criminal antiheroes usually face...Kim's use of pastiche—diary entries, jotted-down notes, snippets from a recorder Byeongsu wears around his neck—to re-create Byeongsu's interactions with his dementia draws readers deeply into the protagonist's voice. This peripatetic self-awareness, patchworked together through his disease, makes him a compelling narrator...Kim manages to blindside even wary readers with a twist that recognizes the worst of Byeongsu's fears about losing control...As he drifts in and out of his memories, readers' various interpretations of the truth will act as a Rorschach test—assessing the limits of their faith in him. But Kim asks, compellingly, why readers might be so eager to believe him in the first place."
—Alana Mohamed, The Atlantic 

"A wild entertaining read from the South Korean writer. In his prime, former serial killer Byeongsu mastered his art: he was one of the best murderers around, spending years obsessively trying to perfect his technique. And then he gave it all up to be a dedicated father to his adopted-daughter, Eunhui. Now though, suffering from dementia, he decides to come out of retirement one last time for his final target: his daughter's boyfriend, who he suspects is also a serial killer. In other stories, an affair between two childhood friends question the limits of loyalty and love. Meanwhile, a family disintegrates after a baby son is kidnapped and recovered years later."
—Cosmopolitan (UK), "49 new books by black and POC authors you'll be reading in 2020"

"Diary of a Murderer and Other Stories is a brilliant collection of short stories that run the gamut from intense thrillers to introspective reflections on pain...[A] visceral gut punch...Young-ha Kim is exceedingly good at distorting reality and telling stories about how meaningless reality truly is. This is everyday surrealism with a sharp edge. In this collection, serial killers are sympathetic and traumatized children are spoiled brats who heartlessly traumatize two generations, one older and one younger. As bleak as this collection is, a bright ray of light shines through. That ray is called 'talent,' and Young-ha Kim is an author who deserves to be very famous."
—New York Journal of Books

"A breath of fresh air."
—Amazon Book Review

"In the title novella of the collection, an elderly man considers coming out of retirement for one last job to save his daughter from the fiancé he believes wants to murder her. He's not a retired detective or a bodyguard, though; he's a former serial killer. The last story, 'The Writer,' opens with an anecdote about a man who is convinced he is a corncob. Needless to say, I'm already beguiled."
—Huffington Post, "61 Books We're Looking Forward To Reading In 2019"

"The first story collection by this celebrated South Korean author to be translated into English tackles the fragility of our narratives as death and loss intercede. Darkly humorous, particularly the titular serial killer battling dementia."
—AM New York, "New novels to read in 2019"

"These tales of obsession reverberate with the hard, cool, and dryly comic voice of one of South Korea's most versatile writers . . . Creeping anxiety and Kafkaesque humor meld in [the] deceptively intricate novella...The other three stories retain the first one's chilliness (sustained nicely with help from Lee's translation) . . . A lively, enthralling introduction to [Kim's] eclectic artistry."
—Kirkus Reviews

"Kim delicately weaves philosophical debates on the nature of happiness andmorality into his characters' inner narrations. Both jarring and atmospheric, this is a cerebrally satisfyingcollection."
—Booklist 

"This dark, innovative story collection from Kim is rife with grim plots and unreliable narrators . . . The best stories are engrossing and disturbing, and are excellent showcases of Kim's talent.."
—Publishers Weekly

"Spiky, quirky reading for all short story fans, whether of literary or pop bent."
—Library Journal

"Explosive stories in which fathers are serial killers, the kidnapped find their way back home and more."
—Paperback Paris