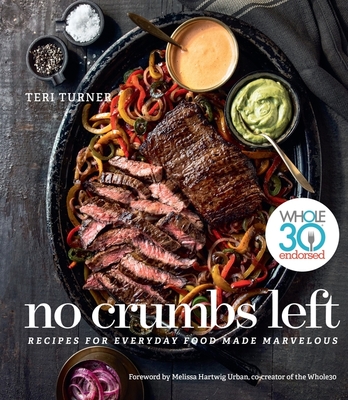 No Crumbs Left
Whole30 Endorsed, Recipes for Everyday Food Made Marvelous
Hardcover

* Individual store prices may vary.
Description
The best-selling cookbook with delicious and healthful recipes from the beloved blog NoCrumbsLeft.com–fully endorsed by Whole30

As millions of people know, one of the toughest things about completing the Whole30 is figuring out what to eat next, the other 335 days of the year. Teri Turner, creator of No Crumbs Left, has healthful and great tasting answers. Food is Teri's love language, and her approach to getting people into the kitchen, rolling up their sleeves, and cooking is contagious. "Don't be afraid to fail: it's just food," is one of her mantras. Teri's passion is evident on every page of her first cookbook, as she leads readers through a discovery of new flavors and spice combinations and teaches people to trust their cooking instincts. Teri's recipes, most of which are gluten-free, grain-free, dairy-free, and Whole30 compliant, are what makes No Crumbs Left so unique. Simple and incredibly delicious dishes such as Pistachio Pesto Chicken Breast, Shrimp Pad Thai, and Spicy Pepperoncini Beef are on the dinner table quickly. The impossibly easy Sugar Snap Pea Salad features two of Teri's signature Magic Elixirs, Green Goddess Dressing and Smoky Pepitas, which are both made in advance and kept on hand to elevate countless meals. Her signature Marinated Red Onions, 999 Island Dressing, Gomasio, and Spicy Almond Sauce are true secret weapons. The Family chapter features the special recipes her own children grew up with and evoke home, love, and motherhood. Teri considers this book a love letter to her mother, and woven throughout are tips and favorite quotes to bring you right into her kitchen, where there is always an extra seat at the table.
Praise For No Crumbs Left: Whole30 Endorsed, Recipes for Everyday Food Made Marvelous…
"The first No Crumbs Left recipe I ever made was the Sizzling Everyday Roasted Chicken Breasts. I looked at the ingredients and thought, 'How did she get
this
famous from cooking chicken with just four ingredients?' But I trusted Teri and followed the recipe to the letter. It was the best chicken of my life: Simple. Juicy. Delicious. At that point, I became the self- appointed President of the Teri Turner Fan Club."
—from the Foreword by Melissa Hartwig Urban, Whole30 Co-founder
"I have been following Teri on Instagram for years and have become such a fan of her no-nonsense approach to delicious and healthy food. Every dish of hers I have tried has become a staple in my house. I'm thrilled that she now holds a very special place on my cookbook shelf. Let's go!"
—Jesse Tyler Ferguson, actor and ambitious home cook
"Teri Turner is a cook's best friend, combining the wisdom of Julia Child and the encouragement of the mom of your dreams! Her new cookbook is packed with instant classics, from magic elixirs that kick up the flavor of any weeknight dish to jaw-dropping showstoppers. You won't be able to put down this book!"
—Michelle Tam, New York Times best-selling cookbook author and creator of Nom Nom Paleo
"Full of magic, wholesome recipes and decadently delicious food,
No Crumbs Left
is truly a treasure. Teri's beautiful soul and nurturing nature is woven throughout the pages, and it's like she's beside you in the kitchen cheering, "Let's go!" An instant family classic. I'll be making these recipes for years to come."
—Brittany Williams, author of the national best-selling Instant Loss Cookbook
"I love Teri's unique approach to making food. She has such incredible techniques that help make typically boring meals absolutely delicious!"
—Myleik Teele, founder of CURLBOX
"For real family food with heart & soul, look no further that than the unstoppable Teri Turner. This book is filled with dinner inspiration and cooking confidence that will urge you into the kitchen!"
—Donal Skehan, television host and cookbook author
"Teri's work brings so much joy and inspiration to my kitchen every day. She shares everything with such a loving and generous heart, and it shows in every one of these recipes. I can't wait to cook my way through this book and share these recipes with my family!"
—Alex Snodgrass, creator of The Defined Dish
"Cookbooks like this don't come along very often, and people like Teri don't either. These recipes are a pure celebration of Teri's way of eating. The premise is simple, that simple food, made with love can do so much good in the world. I can't wait to cook, eat, and share everything from these pages."
—Michael Zee, creator Symmetry Breakfast
Mariner Books, 9781328557476, 304pp.
Publication Date: May 21, 2019
About the Author
TERI TURNER is the creator of the popular food and lifestyle blog No Crumbs Left. Formerly an event producer, she has always been committed to bringing magic into the kitchen when cooking for her family and friends. As a brand innovator, influencer, and trendsetter, Teri provides fresh ideas for her fans and clients. Her Whole30 takeovers and global meet-ups celebrating her foodie adventures and life experiences, as well as her weekly podcast, Table Talks, featuring Teri one-on-one with a guest, captivate her followers. The mother of two grown children, Patrick and Lucy, she considers motherhood her most valuable role. A native Chicagoan, Teri shares her life with her partner Roy, dividing their time between Chicago and Northern California.

MELISSA URBAN is the co-founder and CEO of Whole30, and a six-time New York Times bestselling author. She is the host of the Do the Thing podcast, and is a prominent keynote speaker on social media and branding, health trends, and entrepreneurship. She lives in Salt Lake City, UT.