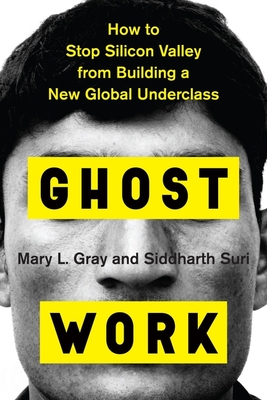 Ghost Work
How to Stop Silicon Valley from Building a New Global Underclass
Hardcover

* Individual store prices may vary.
Other Editions of This Title:
Compact Disc (5/7/2019)
Description
In the spirit of Nickel and Dimed, a necessary and revelatory expose of the invisible human workforce that powers the web—and that foreshadows the true future of work.

Hidden beneath the surface of the web, lost in our wrong-headed debates about AI, a new menace is looming. Anthropologist Mary L. Gray and computer scientist Siddharth Suri team up to unveil how services delivered by companies like Amazon, Google, Microsoft, and Uber can only function smoothly thanks to the judgment and experience of a vast, invisible human labor force. These people doing "ghost work" make the internet seem smart. They perform high-tech piecework: flagging X-rated content, proofreading, designing engine parts, and much more. An estimated 8 percent of Americans have worked at least once in this "ghost economy," and that number is growing. They usually earn less than legal minimums for traditional work, they have no health benefits, and they can be fired at any time for any reason, or none.

There are no labor laws to govern this kind of work, and these latter-day assembly lines draw in—and all too often overwork and underpay—a surprisingly diverse range of workers: harried young mothers, professionals forced into early retirement, recent grads who can't get a toehold on the traditional employment ladder, and minorities shut out of the jobs they want. Gray and Suri also show how ghost workers, employers, and society at large can ensure that this new kind of work creates opportunity—rather than misery—for those who do it.
Praise For Ghost Work: How to Stop Silicon Valley from Building a New Global Underclass…
Fordham University Center's Book Prize, 2019
A 2019 Financial Times Critics Choice

"Revealing...this compassionate and informative study is a must-read for anyone interested in the future of work."
—Publishers Weekly

"Ghost Work adeptly raises the alarm about an emerging type of dehumanizing work, where invisible workers serve as cogs in the great machine of our latest information technology, entirely beholden to software and artificial intelligence."—Martin Ford, bestselling author of Rise of the Robots and Architects of Intelligence

"An uncompromising, data-based, yet heartfelt exploration of how digital technologies have allowed corporations to write human beings even further out of the value equation, as well as how we can restore dignity and prosperity to the lives of the invisible workforce. The first step in building solidarity is simply knowing there are people out there." —Douglas Rushkoff, author of Team Human and Throwing Rocks at the Google Bus.

"Ghost Work is a stunning book, just the wake-up call we need to shatter the credulous belief that artificial intelligence is 'replacing' workers. As Gray and Suri masterfully demonstrate, work isn't disappearing in the age of AI; it is being hidden. Scrupulously researched and deeply humane, Ghost Work is at once a sobering reminder of what could happen if we allow algorithmic cruelty and exploitative labor practices to flourish and an inspiring call to defend the dignity and value of human labor." –Virginia Eubanks, author of Automating Inequality

"The Wachowskis got it wrong. Humans aren't batteries for The Matrix, we are computer chips. In this fascinating book, Mary Gray and Siddharth Suri show us just how integral human online task workers are to the development of AI and the seamless operation of all the great internet services. Essential reading for anyone who wants to understand our technology-infused future." —Tim O'Reilly, CEO, O'Reilly Media

"A remarkable book. As one of the millions of hidden workers of the world, I know this book gets to the heart of what it means to be a ghost worker. It reveals the true reality of work life for the people earning a living as digital pieceworkers. The authors also propose several technical and social fixes to collaboratively build a better future for everyone working in the shadows." —Rochelle LaPlante, digital labor rights activist
 
"Ghost Work is groundbreaking, a painstaking portrait of an invisible world. We can only choose a different future of work if we truly see today's workers." —Felicia Wong, President and CEO, Roosevelt Institute, Author, The Hidden Rules of Race: Barriers to an Inclusive Economy

"If you think you know what's going on with digital labor, think again. This pathbreaking book is sure to re-set the debate about technology and the future of work. Based on extensive ethnography and survey research, Ghost Work is a must-read for anyone who cares about a humane future for those of us who need to work for a living. A game-changer." —Juliet B. Schor, Professor of Sociology, Boston College
 
"Mary Gray and Siddharth Suri show us the  human face to 'ghost work' -- the invisible and often alienating piece work that makes today's digital economy run. The people working today for Mechanical Turk and similar platforms are the canaries in the coal mine, revealing how more and more of us will be working in the years to come." —Henry Jenkins, Provost's Professor of Communication, Journalism, Cinematic Art, and Education, University of Southern California

"Ghost Work's mosaic of personal narratives is a welcome bulwark against oversimplification of a phenomenon that is, by design, easy to overlook. The debate around a complex and troubling labor market comes to life through the stories of its most vulnerable participants." — Jonathan Zittrain, George Bemis Professor of International Law at Harvard Law School, Professor of Computer Science at the Harvard School of Engineering & Applied Sciences, and Faculty Director of the Berkman Klein Center for Internet & Society
 
"Peering into a future that is now, Ghost Work is a must-read exposé of the new world of work on the global, digital assembly line—hidden, creative, human labor upon which we are all dependent and without which there would be no effective artificial intelligence." —Alisse Waterston, Presidential Scholar and Professor, John Jay College of the City University of New York, and past-President, American Anthropological Association

 "Ghost Work portrays a world in which invisible armies of online workers are hired, tasked, managed, paid, and often fired by machines. This setting would make for gripping dystopian science fiction — were it not describing the present! This book convinces me that greater transparency and regulatory oversight will be crucial for ensuring that the future of work 'works' well for platform workers, not just for the platforms that oversee them." —David Autor, Ford Professor of Economics, MIT

"AI's dirty secret is just how much human labor lurks inside apparently automated systems. The emergence of this informal work is one of the most significant transformations in labor in decades.  Yet, as Mary Gray and Siddharth Suri show in this important book, it is firmly rooted in a century-long struggle for labor protections.  Ghost Work offers not just a detailed diagnosis of current conditions but also a path towards a better future." —Paul Dourish, Chancellor's Professor, Informatics Donald Bren School of Information and Computer Sciences, University of California, Irvine

"Ghost Work should be read by every CEO whose company depends on online, on-demand workers and by every citizen concerned about the influence of artificial intelligence on the nature of work. It elegantly places this technology in historical context and, crucially, gets the technology right. Moreover, Gray and Suri's creative suggestions for redesigning socio-technical systems would vastly improve the well-being of the humans who sustain them." —Barbara J. Grosz, Higgins Professor of Natural Sciences in the John A. Paulson School of Engineering and Applied Sciences, Harvard University

"Ghost Work brings out of the shadows many of the "last-mile" human activities that are typically left out of the story about technology's impact on work. The authors clearly lay out the critical policy and business challenges ahead, as well as some creative solutions, as this form of work continues to grow." —James Manyika, Senior Partner at McKinsey & Company and Chairperson and Director of the McKinsey Global Institute (MGI), MGI's business and economics research arm

"This book reminds us that it's not just the 'future of work' but the present of work for millions of workers. It's essential that we see and understand the nature of ghost work." —Natalie Foster, Co-chair and co-founder, Economic Security Project and Senior Fellow at The Aspen Institute Future of Work Initiative

"In this important and original book, Gray and Suri give us a fascinating peek under the hood of the gig economy that is rigorous yet very readable."—Arun Sundararajan, professor of business, New York University, author of The Sharing Economy

"Ghost Work is an instant classic. It is resonant of the great ethnographies that illuminated the manufacturing shop floor. But industries of the past relied on a lively community of people who worked, played, and lived together. The workers on the new digital assembly line are known neither to each other or to us. Their invisibility makes them ghosts. Gray and Suri enable us to see them, empathize with them, and recognize our own complicity in their situation. By emphasizing how even AI depends on human labor and by offering a rich account of the lives who provide that labor, the authors offer hope through a well-grounded tool kit of strategies for amelioration and action." —Margaret Levi, professor of Political Science, Stanford University

"Ghost Work is a haunting look at the stories of the people who live far from Silicon Valley whose work makes the Internet possible. With this extraordinary research, Gray and Suri combine rich interview data with the scope and scale of big data. They paint a sweeping, yet fine-grained picture of our technological moment, while helping us to imagine a different and more just future." —Gina Neff, University of Oxford, author of Venture Labor
 
 
Houghton Mifflin Harcourt, 9781328566249, 288pp.
Publication Date: May 7, 2019
About the Author
MARY L. GRAY is a Senior Researcher at Microsoft Research and Fellow at Harvard University's Berkman Klein Center for Internet and Society. She is also Associate Professor of  the School of Informatics, Computing, and Engineering with affiliations in the Media School, Anthropology, and Gender Studies at Indiana University. Mary draws on anthropology, gender studies, and media theory to understand how technology access, material conditions, and everyday uses of media transform people's lives.
 

SIDDHARTH SURI is a computational social scientist whose research interests lie at the intersection of computer science, behavioral economics and crowdsourcing. His early work analyzed the relationship between network topology and human behavior. Since then he has become one of the leaders in designing, building, and conducting "virtual lab" experiments using Amazon's Mechanical Turk.  Most recently, he has been studying the behavior and dynamics of the crowd workers themselves.