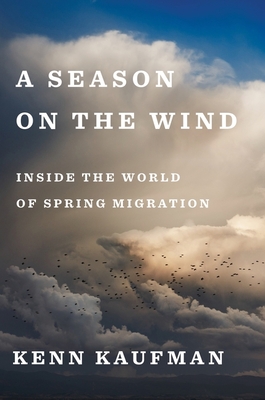 A Season on the Wind
Inside the World of Spring Migration
Hardcover

* Individual store prices may vary.
Other Editions of This Title:
Compact Disc (5/28/2019)
MP3 CD (5/28/2019)
Compact Disc (5/28/2019)
Description
A close look at one season in one key site that reveals the amazing science and magic of spring bird migration, and the perils of human encroachment.
 
Every spring, billions of birds sweep north, driven by ancient instincts to return to their breeding grounds. This vast parade often goes unnoticed, except in a few places where these small travelers concentrate in large numbers. One such place is along Lake Erie in northwestern Ohio. There, the peak of spring migration is so spectacular that it attracts bird watchers from around the globe, culminating in one of the world's biggest birding festivals. 
  
Millions of winged migrants pass through the region, some traveling thousands of miles, performing epic feats of endurance and navigating with stunning accuracy. Now climate change threatens to disrupt patterns of migration and the delicate balance between birds, seasons, and habitats. But wind farms—popular as green energy sources—can be disastrous for birds if built in the wrong places. This is a fascinating and urgent study of the complex issues that affect bird migration.
Praise For A Season on the Wind: Inside the World of Spring Migration…
"Kenn Kaufman knows his birds and their miraculous journeys—and he feels them deeply, too. An enlightening, thought-provoking, and poignant read." —Jennifer Ackerman, author of The Genius of Birds
 
"In A Season on the Wind, Kenn Kaufman soars above his Ohio home place and artfully shares the world of birds and the miraculous feats of migration that persist amidst constant conservation struggles and hard-won successes. It's a wondrous compendium of stories about birds and humans that compels us to be more in nature and work ever harder to protect it. The message within to love and conserve is as clear as a Swainson's thrush's flight call in a spring night sky. What A Season on the Wind does is so much more than inform, it inspires." —J. Drew Lanham, author of The Home Place 
 
"Some people love birds, but others have a passionate commitment to birding. Kenn Kaufman has that kind of dedication, which includes a fascination for bird watching, but also he's a genuine part of the birding community dedicated to protecting these beautiful creatures." —Craig Newmark, founder of Craigslist
 
"Seamlessly weaving together natural history with personal narrative, Kaufman reveals how an appreciation of birds not only helps build community and conserve land, but also can make life a great deal richer for each of us. The more he uncovers the fascinating lives and migratory feats of birds, the more wonder and magic he lays bare; by the end, his sense of awe has become our own. A Season on the Wind will transform the way we see birds and the season of spring!" —Melissa Groo, wildlife photographer and conservationist
Houghton Mifflin Harcourt, 9781328566423, 288pp.
Publication Date: April 2, 2019
About the Author
KENN KAUFMAN, originator of the Kaufman Field Guide series, is one of the world's foremost naturalists.