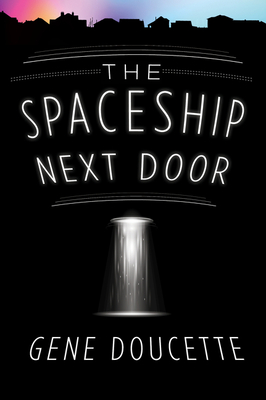 The Spaceship Next Door (Paperback)
John Joseph Adams/Mariner Books, 9781328567468, 368pp.
Publication Date: September 4, 2018
* Individual store prices may vary.
Description
When a spaceship lands in Sorrow Falls, a lovable and fearless small-town girl is the planet's only hope for survival
 
Three years ago, a spaceship landed in an open field in the quiet mill town of Sorrow Falls, Massachusetts. It never opened its doors, and for all that time, the townspeople have wondered why the ship landed there, and what—or who—could be inside.

Then one day a government operative—posing as a journalist—arrives in town, asking questions. He discovers sixteen-year-old Annie Collins, one of the ship's closest neighbors and a local fixture known throughout the town, who has some of the answers.

As a matter of fact, Annie Collins might be the most important person on the planet. She just doesn't know it.
About the Author
GENE DOUCETTE is the author of the best-selling The Spaceship Next Door, as well as the Immortal novel series and the sci-fi thriller Fixer. He is also an award-winning screenwriter and playwright.
Praise For The Spaceship Next Door…
An Amazon "Best Book of the Month" 

"A fun and heartwarming send-up of classic science fiction."—The Washington Post

"Doucette delights with this wonderful example of speculative fiction...[and] writes winning characters who read like real people, and Sorrow Falls is similarly credible. The head-spinning ideas both power the narrative and invite the reader to think hard, while plenty of humor and action move the plot along. This excellent work will appeal to readers from middle school through adulthood."—Publishers Weekly, STARRED REVIEW

"Doucette's genial, leisurely novel feels like a throwback to the squeaky clean science fiction of the mid-20th century… the town is vividly realized and described…[and] Doucette's dry sense of humor and obvious affection for his characters go a long way… a warmhearted ode to a simpler time and place in a community so small that everybody knows everybody else's business."—Kirkus

"An enormously enjoyable first contact story you won't forget from a talented new voice in sci-fi!"
          —A.G Riddle, best-selling author of The Atlantis Gene and Pandemic