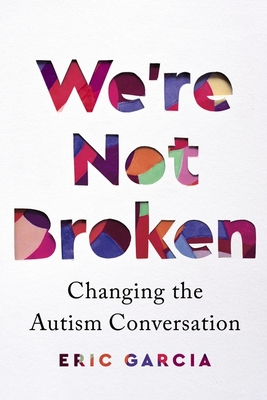 We're Not Broken
Changing the Autism Conversation
Hardcover

* Individual store prices may vary.
Other Editions of This Title:
Digital Audiobook (8/2/2021)
Paperback (8/2/2022)
MP3 CD (8/3/2021)
Description
"This book is a message from autistic people to their parents, friends, teachers, coworkers and doctors showing what life is like on the spectrum. It's also my love letter to autistic people. For too long, we have been forced to navigate a world where all the road signs are written in another language."

With a reporter's eye and an insider's perspective, Eric Garcia shows what it's like to be autistic across America.

Garcia began writing about autism because he was frustrated by the media's coverage of it; the myths that the disorder is caused by vaccines, the narrow portrayals of autistic people as white men working in Silicon Valley. His own life as an autistic person didn't look anything like that. He is Latino, a graduate of the University of North Carolina, and works as a journalist covering politics in Washington D.C. Garcia realized he needed to put into writing what so many autistic people have been saying for years; autism is a part of their identity, they don't need to be fixed. 

In We're Not Broken, Garcia uses his own life as a springboard to discuss the social and policy gaps that exist in supporting those on the spectrum. From education to healthcare, he explores how autistic people wrestle with systems that were not built with them in mind. At the same time, he shares the experiences of all types of autistic people, from those with higher support needs, to autistic people of color, to those in the LGBTQ community. In doing so, Garcia gives his community a platform to articulate their own needs, rather than having others speak for them, which has been the standard for far too long. 
Praise For We're Not Broken: Changing the Autism Conversation…
"We're Not Broken is a lyrical mix of myth-busting, memoir, history, field interviews, and straight-up advice on how to better understand the autism spectrum, how to talk about it, and why it impacts every one of us."  — NPR
"Outstanding…Garcia's book uses rich storytelling and insightful reporting to uncover not only the long history of how autistic people have been mistreated but also how they continue to be ignored…'We're Not Broken' is exactly the book we need to lead the way in changing the autism conversation. It belongs on the shelf next to 'NeuroTribes' as essential reading on autism and neurodiversity." — Washington Post
"We're Not Broken is a landmark book at a crucial moment in history, when autistic people are finally being recognized as the ultimate authority on their own lives. Surveying the whole autism landscape - from federal policy to intimate relationships - with heart, insight, and wit, Garcia's book will inspire generations of people on the spectrum to realize their fullest potential." — - Steve Silberman, New York Times best-selling author of NeuroTribes: The Legacy of Autism and the Future of Neurodiversity  
"A bold and progressive exploration of autism in America today, We're Not Broken is an instant classic. Whether it's demystifying policy or profiling the next generation of autistic leaders, Garcia's story is guided by a simple principle: let autistic people articulate their own needs. In that way, to read this book is to listen to them." — - Ron Fournier, New York Times best-selling author and journalist  
"Eric Michael Garcia has written a powerful and immensely clarifying book. We're Not Broken is more than a book about politics, autism and disability. It is an essential meditation on the many ways of being human." — - Zachary D. Carter, New York Times best-selling author of The Price of Peace: Money, Democracy, and the Life of John Maynard Keynes  
"In this groundbreaking and important book, reporter Eric Garcia uses in-depth interviews, media reports, and the most up-to-date scientific research to write a new narrative about autism. Turning his investigative skills inward, he plumbs his own life as an autistic person to tell the definitive story of how such a common condition came to be so misunderstood. We're Not Broken is essential, humane, and necessarily provocative reading." — - Jill Filipovic, author of Ok, Boomer, Let's Talk: How My Generation Got Left Behind  
"Garcia's strength is his ability to potently mix policy analysis (he covers the pros and cons of Medicaid's Home and Community-Based Services Waivers, for example), reporting, and personal experience. This powerful account is packed with insight."  — Publishers Weekly
Harvest, 9781328587848, 304pp.
Publication Date: August 3, 2021
About the Author
ERIC GARCIA is a journalist based in Washington, DC. Previously, he was an assistant editor at the Washington Post's Outlook section and an associate editor at The Hill, as well as a correspondent for National Journal,MarketWatch, and Roll Call. He has also written for the Daily Beast, the New Republic, and Salon.com. Garcia is a graduate of the University of North Carolina at Chapel Hill.