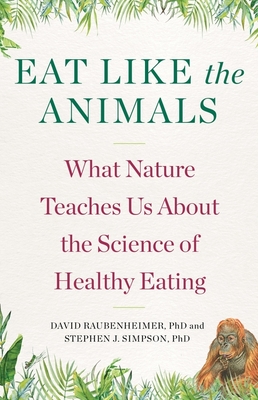 Eat Like The Animals
What Nature Teaches Us About the Science of Healthy Eating
Hardcover

* Individual store prices may vary.
Other Editions of This Title:
Digital Audiobook (4/6/2020)
Paperback (4/6/2021)
MP3 CD (4/7/2020)
Description
A New Scientist Best Book of 2020

Our evolutionary ancestors once possessed the ability to intuit what food their bodies needed, in what proportions, and ate the right things in the proper amounts—perfect nutritional harmony. From wild baboons to gooey slime molds, most every living organism instinctually knows how to balance their diets, except modern-day humans. When and why did we lose this ability, and how can we get it back?
David Raubenheimer and Stephen Simpson reveal the answers to these questions in a gripping tale of evolutionary biology and nutritional science, based upon years of groundbreaking research. Their colorful scientific journey takes readers across the globe, from the foothills of Cape Town, to the deserts of Arizona, to a state-of-the-art research center in Sydney. Readers will encounter locusts, mice and even gorillas along the way as the scientists test their hypotheses on various members of the animal kingdom.
This epic scientific adventure culminates in a unifying theory of nutrition that has profound implications for our current epidemic of metabolic diseases and obesity. Raubenheimer and Simpson ultimately offer useful advice to understand the unwanted side effects of fad diets, gain control over one's food environment, and see that delicious and healthy are integral parts of proper eating.
Praise For Eat Like The Animals: What Nature Teaches Us About the Science of Healthy Eating…
  "Eat Like the Animals is a must-read. This beautifully written book proposes a highly original and compelling explanation for why so many of us gain weight in today's over­processed food environment. Raubenheimer and Simpson are biologists who use their deep knowledge of animal and insect physiology, evolution, and feeding behavior to construct a compelling hypothesis: We share with animals an innate appetite for protein that regulates what we eat." — MARION NESTLE, Professor of Nutrition, Food Studies, and Public Health, Emerita, New York University and author of Unsavory Truth   "At last a book on diet and nutrition that makes sense. In a world awash with misinforma­tion about what and when to eat, Eat Like the Animals is a breath of fresh air. I couldn't put it down. Based on more than 30 years of cutting-edge research, it explains how the modern food environment hacks our hunger control system, then explains what we all should be eating to live healthily and age well." — DAVID SINCLAIR, Professor of Genetics and co-Director of the Paul F. Glenn Center for the Biology of Aging, Harvard Medical School and author of Lifespan: Why We Age— and Why We Don't Have To   "Eat Like the Animals is a wonderfully clever and unusual introduction to the science of healthy eating. Full of drama, insight, and surprise, I love the way it is written. Rauben­heimer and Simpson make a very compelling case for the importance of protein in reg­ulating our hunger and very powerfully demonstrate the horrific role that the junk food industry has played in our lives. Essential reading." — DR. MICHAEL MOSLEY, author of The Fast 800 and The Fast Diet   "Eat Like the Animals is quite simply a masterpiece. I am completely blown away by the science and enthralled by the clarity and elegance of the writing. Raubenheimer and Simpson have revealed the deep evolutionary secrets of the most important physiological need any animal faces by asking the right questions, and have eviscerated all the charla­tans, quacks, and pseudoscientists who seek fame and fortune by peddling rubbish. The story the authors have told is very important — more so than many people will realize." — DR. GEORGE McGAVIN, zoologist and nature television host "Whether readers are drawn to the book's health takeaways or to the scientific nitty-gritty, they will find much food for thought in this fascinating study." —Publishers Weekly —
Harvest, 9781328587855, 256pp.
Publication Date: April 7, 2020
About the Author
DAVID RAUBENHEIMER PhD, is the Leonard P. Ullman Professor of Nutritional Ecology in the School of Life and Environmental Sciences, and Nutrition Theme Leader in the Charles Perkins Centre, at the University of Sydney. He lectures extensively at universities and conferences around the world. He co-wrote The Nature of Nutrition: A Unifying Framework from Animal Adaptation to Human Obesity with Stephen J. Simpson. He lives in Sydney, Australia.
 

STEPHEN J. SIMPSON, PhD, is Academic Director of the Charles Perkins Centre and Professor in the School of Life and Environmental Sciences at the University of Sydney. He is the recipient of the Royal Entomological Society's Wigglesworth Medal, The Eureka Prize, a Fellow of the Royal Society of London and a Companion of the Order of Australia. He has also been prominent in the media and television both in the UK and Australia, having appeared on National Geographic, Animal Planet and History Channels in the UK and also as the presenter of a four-part documentary series for ABC TV, Great Southern Land. He lives in Sydney, Australia.
 
or
Not Currently Available for Direct Purchase