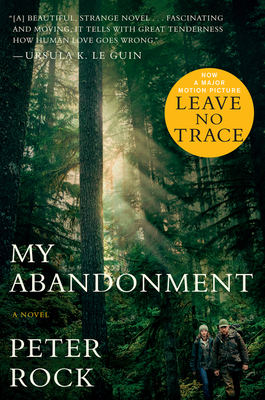 My Abandonment (Tie-In) (Paperback)
Now a Major Film: LEAVE NO TRACE
Mariner Books, 9781328588715, 240pp.
Publication Date: June 26, 2018
* Individual store prices may vary.
Description
NOW A MAJOR FILM, LEAVE NO TRACE, DIRECTED BY DEBRA GRANIK AND STARRING BEN FOSTER AND THOMASIN HARCOURT MCKENZIE

"Poignant . . . My Abandonment lingers in the mind, leaving you as haunted as its mesmerizing characters."—New York Post
 
"This is probably the recent novel I recommend most... [a] short, disciplined, unsettling book."—Hanya Yanagihara, author of A Little Life and The People in the Trees, for GQ

A thirteen-year-old girl and her father live in Forest Park, an enormous nature preserve in Portland, Oregon. They inhabit an elaborate cave shelter, wash in a nearby creek, store perishables at the water's edge, use a makeshift septic system, tend a garden, even keep a library of sorts. Once a week they go to the city to buy groceries and otherwise merge with the civilized world. But one small mistake allows a backcountry jogger to discover them, which derails their entire existence, ultimately provoking a deeper flight.
Inspired by a true story and told through the startlingly sincere voice of its young narrator, Caroline, My Abandonment is a riveting journey into life at the margins and a mesmerizing tale of survival and hope.

"Original, unusual, and addictive."—Oregonian

"[A] beautiful, strange novel . . . Fascinating and moving, it tells with great tenderness how human love goes wrong."—Ursula K. Le Guin
About the Author
PETER ROCK is the author of several novels, including My Abandonment, and a collection of stories, The Unsettling. He teaches writing at Reed College.
Praise For My Abandonment (Tie-In): Now a Major Film: LEAVE NO TRACE…
"This beautiful, strange novel takes us into the foreign country where those called homeless are at home, the city is wilderness, and the greater wilderness lies beyond. Fascinating and moving, it tells with great tenderness how human love goes wrong."—Ursula Le Guin

"This is probably the recent novel I recommend most. This short, disciplined, unsettling book is about a girl, Caroline, who's living with her father off the grid in the Oregon woods. One of the things I love most about this novel is how much it manages to do in so little space. Father is a wonderful, mysterious, vivid creation who manages to be compelling while not quite pinnable: Is he really what he seems? What does he want, and what has he done? And then there's Caroline herself, whose affectlessness becomes heartbreaking as the novel progresses. The mood of dread that hovers over the book culminates in a single, spectacular scene of violence, but one that's more suggested than shown. And that, really, is the novel's power: It demonstrates how the most resonant fiction is by writers who have mastered the art of absence, who have found a way to wield negative space as a literary weapon."—Hanya Yanagihara, author of A Little Life and The People in the Trees 

"Poignant . . . My Abandonment lingers in the mind, leaving you as haunted as its mesmerizing characters."—New York Post ​

"Perspicacious."—Elle

"Riveting . . . an immediate story in all ways . . . dead-on, entrancing narration . . . impossible to stop reading . . . Rock so expertly puts us inside this child's head that it becomes, as good books do, quite memorable."—Cleveland Plain Dealer

"My Abandonment is a teasingly ambiguous tale that leaves our speculation about Caroline and Father to linger in the air like the smoke from a dying campfire: is their relationship empowering or toxic? Are the true lessons children learn from their parents the ones those parents intend to impart? These questions, and others equally challenging, make this novel a thoughtful one that readers will savor."—BookPage

"Compelling and heartbreaking, My Abandonment is a haunting tale that examines the strength of the human spirit."—Deseret News

"My Abandonment is purely dazzling, alive in every word and scene, so deep and strange in its rendering of this one young woman's life that I could hardly raise my eyes from the page."—Andrea Barrett

"Peter Rock's My Abandonment is an electrically charged, bone-deep and tender tale of loss and partial redemption. Surreal, haunting, elegiac."— James Ellroy

"Peter Rock's My Abandonment is mesmerizing and disturbing, a book as fierce as it is tender, as tender as it is real."—Junot Díaz