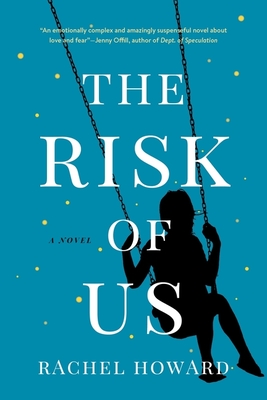 The Risk Of Us
Hardcover

* Individual store prices may vary.
Other Editions of This Title:
Digital Audiobook (4/8/2019)
Description
Nearly half a million children are in foster care. Most placements fail. Will seven-year-old Maresa's?

"It starts with a face in a binder. CHILDREN AVAILABLE, reads the cover." So begins Rachel Howard's intimate and heartbreaking novel about a couple hoping to adopt a child from foster care, then struggling to make it as a family. Seven-year-old Maresa arrives with an indomitable spirit, a history of five failed foster care "placements," and a susceptibility to angry panic attacks fueled by memories of abuse. Maresa's new foster mother, whose name the reader never learns, brings good intentions but also her own history of trauma, while her husband's heart condition threatens to explode. These three flawed but deeply human characters want more than anything to love each other--but how does a person get to unconditional love? Over the course of a year, as Maresa approaches the age at which children become nearly impossible to place, all three must discover if they can move from being three separate people to a true family—or whether, almost unthinkably, the adoption will fail.
Written in a spare and thought-provoking style evoking aspects of Jenny Offill and Rachel Cusk, The Risk of Us deftly explores the inevitable tests children bring to a marriage, the uncertainties of family life, and the ways true empathy obliterates our defenses.
Praise For The Risk Of Us…
"With breathtaking brevity, Rachel Howard's debut novel, The Risk of Us, illuminates the joys, challenges, fears and frustrations of adopting a foster child. And while she delves into the minutiae of 'the system' and the differences of opinion about parenting styles, her deceptively thin volume is about much more than plunging into parenthood. Howard masterfully illuminates how parenthood manages to bend even the most solid of marriages and expose insecurities about past relationships, including those from childhood. . . .  [Howard's] writing is spare and elegant, yet it beautifully conveys intensity and emotional depth. . . . A simply gorgeous novel."—Associated Press "It's a triumph of a book that captures an essential truth not just about how it feels to foster an already formed human being, but about the fragile, shape-shifting quality of any family. Raising a child is always a leap of faith, motivated by love, which is something this narrator has stores of."—The San Francisco Chronicle "Powerful . . . Howard's portrayal of motherhood in The Risk of Us is the antidote to the Instagram hashtag filled with photos of glowing stay-at-home moms posed with their immaculate children and spotless kitchens.…Utterly compelling."—Bustle "Poignant" —San Francisco Examiner "Though rooted in memoir, this is compelling fiction, trenchant, heartbreaking, ultimately hopeful."—Booklist "An emotionally complex and amazingly suspenseful novel about love and fear."—Jenny Offill, author of Dept. of Speculation "A tight, compelling story." —Santa Barbara Independent "Rachel Howard has given us a portrait of family-building and attachment that is at once beautiful and painful, serious and funny, page-turning and insightful. I was deeply moved by this novel, a powerful reminder of the risks we take on whenever we love anyone." — Belle Boggs, author of The Art of Waiting "I've never read anything so beautiful about the intricacies of adoption—the process itself, and the seldom-talked-about aftermath. The prose is elegant and compressed; I often had to stop reading to catch my breath. Anyone who has ever loved a child, in any capacity, should read this book." — Jamie Quatro, author of I Want to Show You More and Fire Sermon  "The Risk of Us is a spare, poetic, and fearless narrative that explores the question of what makes—and keeps—a family together. Be prepared for an absorbing, unflinching chronicle of the formidable difficulties and vast rewards of love." — Krys Lee, author of How I Became a North Korean and Drifting House "Rachel Howard's The Risk of Us (so accurately titled) is a novel of deep pain yet also laughs—lots of them. Nothing is easy in this book, and that's as it should be. With risk comes a kind of awesome grace. A wonderfully written and candid examination of what it means to be a family." — Peter Orner, author of Last Car over the Sagamore Bridge and Love and Shame and Love "Howard works with an elegant complexity, rendering family life with its necessary cocktail of pain and humor and pathos. —
Ecco, 9781328588821, 208pp.
Publication Date: April 9, 2019
About the Author
RACHEL HOWARD earned her MFA in fiction from Warren Wilson College and is the author of a memoir, The Lost Night. She is the recipient of a MacDowell Colony fellowship, and her fiction, essays, and dance criticism have appeared in the San Francisco Chronicle, the New York Times, the Los Angeles Review of Books, Waxwing, and elsewhere. She lives in Nevada City, California.
or
Not Currently Available for Direct Purchase